Thanks to Mike Cussans for uploading over 100 of his photos of Hong Kong in the 1960s and 70s: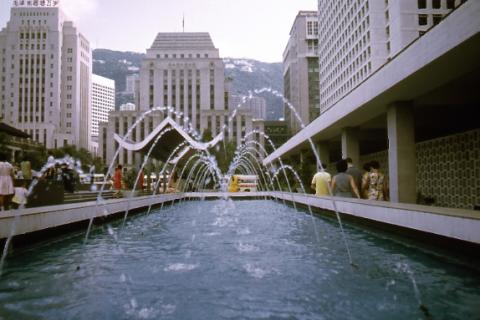 Over to Mike...
---
Growing up in Hong Kong
I was born in Causeway Bay, Hong Kong in 1949. My Dad was flying for Imperial Airways / BOAC on flying boats, and was based in Hong Kong. We lived in Stewart Terrace on the Peak.
We returned to England shortly after that, but my Dad was sent back to Hong Kong again in 1956 when Hong Kong Airways took delivery of 2 Viscount aircraft. We lived at La Salle road, a fantastic place with a huge garden, but sadly it is now a block of flats.
After HKG Airways folded into CPA 1959 my Dad took a position with Jardines Airways Dept. At the time I was at Kowloon Junior School, but was soon packed off to boarding school, probably not the best decision with hindsight! After LaSalle we moved to Cambridge Rd where we had a flat, but by the time my Dad was Manger of HATS (Hong Kong Air Terminal Services) and eventually Jardines Air cargo, we had been moved to St. George's Court... very nice too.
My Mother worked at the old Sea Terminal and eventually was PA to Eric Wood, CEO of the Ocean Terminal, a wonderful place to shop and wander round. Mum knew all the shop owners and retail outlets, and as a former ATS Captain, she had day to day control it seemed. So getting a table a Maxim's for lunch was no problem, or announcing that her son wanted to buy a Rolex in a jewellery shop - 43 years later its still on my wrist ...it cost me a month's salary £65, not bad!
By that time I had left school and was working at Kai Tak as a Traffic clerk, before becoming a Load Controller / Flight Dispatcher....a wonderful time but as a local employee it couldn't last when my parents retired in 1971.
My time was spent playing cricket and football, for both Jardines and KCC and popping into the USRC for a swim. Great memories of playing in the Hong trophy matches at Chater Rd and Jock's Pot Boxing Day football v Swire's, and all the wonderful characters & players I met at the KCC.
I grew up in Hong Kong during the 60s and will always have marvellous memories of the place... the food, buying my records in Diamond Music, learning to drive on Shatin Airstrip, and Lowenbrau at King's Lodge!
I returned to UK and worked for BOAC/British Airways as an aircraft Dispatcher for 37 years before retiring 2009.
The photos
Most of the photos in the early 60s were taken by Dad, as I was still young. The later ones in 60s & 70s I took as I was wandering around. The photos in the early 70s I took as I knew I was leaving Hong Kong soon and I wanted a few memories. Subsequent photos taken 1978 were done when I returned to Hong Kong leading a British Airways cricket club team to play various matches.
Views
A drive up Fei Ngo Shan was a popular viewing place to look towards Sha Tin & Kai Tak, and Sai Kung & Tai Mo Shan were the preferred picnic / bbq locations.
Kowloon Tong in those days was a lovely peaceful area to live in just wish I had taken more photos!
The views towards Kowloon Tong, DBS school, and Ho Man Tin were all taken from St. George's Court, Kadoorie Ave. My bedroom looked out across to DBS, whilst the balcony gave views towards the harbour one way and Ma Tau Kok, Kai Tak the other, Ho Man Tin in front.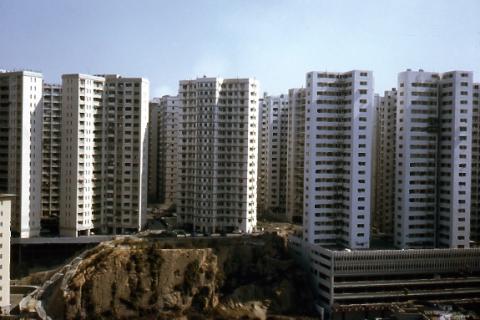 More to come?
My skills with a computer / scanner are getting better but it's a steep learning curve. So far I've just done slides now I want to see if I can dig out old photographs and upload them....so there may be more to come.
Thanks for all the help and feedback that I have had from the Gwulo folks.
Best wishes, Mike
---
(You can click any of the photos below to see other readers' comments, and / or leave your own.)
Thanks again to Mike for showing us his photos. If you have any photos of old Hong Kong you'd like to share on Gwulo.com, please click here for details of how to upload them: http://gwulo.com/node/2076
Comments
Submitted by on
Submitted by on
Submitted by on
Submitted by on
Submitted by on
Submitted by on
Submitted by on
Submitted by on
Submitted by on
Submitted by on
Submitted by on
Submitted by on
Submitted by on
Submitted by on
Submitted by on
Submitted by on
Submitted by on
Submitted by on
Submitted by on
Submitted by on
Submitted by on
Submitted by on
Submitted by on
Submitted by on
Submitted by on
Submitted by on
Submitted by on
Submitted by on
Submitted by on
Submitted by on
Submitted by on
Submitted by on
Submitted by on
Submitted by on
Submitted by on
Submitted by on
Submitted by on
Submitted by on
Submitted by on
Submitted by on
Submitted by on
Submitted by on
Submitted by on
Submitted by on
Submitted by on
Submitted by on
Submitted by on
Submitted by on
Submitted by on
Submitted by on