Additional information
The Gwulo book is available to buy online, or in local book stores:
Buy online here at Gwulo.com: click the Buy this button above to order online and have the book mailed to you. [The recent website upgrade means the online store isn't working at the moment, but if you send me an email at david@gwulo.com and let me know which books you'd like to order, I'll be happy to take care of it.] Local and international orders welcome.

Shipping within Hong Kong is free of charge, and shipping to other countries is by airmail. You'll be shown the shipping cost during checkout, before you confirm your order.

SPECIAL OFFER: International customers get FREE SHIPPING if you order two or more copies of the Gwulo books - Volume 1, Volume 2, Volume 3, Volume 4, or any combination - for delivery to the same address.

Buy in a bookstore: Hong Kong customers can find Gwulo's books in branches of these local bookstores.

Buy online at Amazon.com or Amazon.co.uk (affiliate links*).
Reviews
"What is so extraordinary about Bellis is the detail and knowledge that he brings to such a wide array of subjects as he decodes for us, in the most accessible ways, what we are actually looking at."
Veronica Pearson, Journal of the HK Branch of the RAS
 
"Old photos of Hong Kong's harbours show city's vibrant maritime life since the 1890s. From Chinese women who cleaned and painted the sides of ships to the coal stokers who fuelled the ship's boilers, it's a glimpse of a forgotten past."
Annemarie Evans, South China Morning Post
Book details:
The book is a 112-page paperback, with a page size of 152 x 229 mm / 6 x 9 inches.
ISBN: 9789887827627
To take a closer look, please click here to download a PDF sample of photos and stories from the book.
From the back cover:
Not your typical photo book!
Grab your flippers, mask, and magnifying glass – Volume 3 is full of old photos of people in, on, under, and around Hong Kong's famous harbour. Many of the photos are published for the first time, and although they're old, they are sharp and packed with detail. So join David in uncovering the photos' secrets, deciphering their stories, and meeting the people of old Hong Kong.
David runs the award-winning local history website Gwulo, home to over 20,000 photos of old Hong Kong.
---
Spend an hour in David's company, and you'll look at old photos with new eyes. His engaging description of a photo's details sharpens how you yourself look at it, and what was just an old picture becomes an engrossing story.
Hurrah for Volume 3 … and let's hope for 4, 5 and more!
Stephen Davies,
University of Hong Kong
---
When David Bellis examines historical photographs of old Hong Kong, he sees things that the rest of us miss. In this new volume of never-before-seen images, accompanied by an informed and lively commentary, the creator of Gwulo.com brings us yet more fascinating stories from Hong Kong's past.
Peter Cunich (author of Old Hong Kong),
Department of History, University of Hong Kong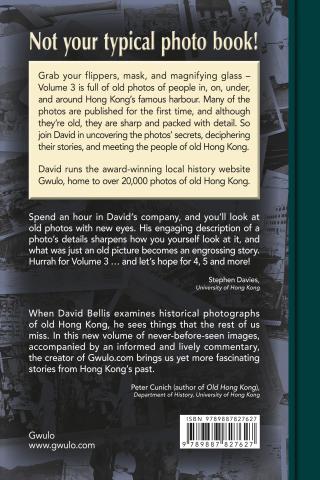 ---
*The affiliate link takes you to the Amazon page for this book. It doesn't affect the price you pay, but if you order via Amazon, they pay a small commission to Gwulo.