Your subscription to Gwulo.com brings you new posts a couple of times a week, but there's lots more good stuff added to the site each day. Here are three easy ways to get more of whatever you're interested in:
Show me everything new
Just new photos please
Only what I'm interested in
1. Show me everything new

This is what I need, as I'm just back from a fortnight's vacation. The trick is
to visit the "Recent Posts" page:
Mon, 09/22/2014 - 21:36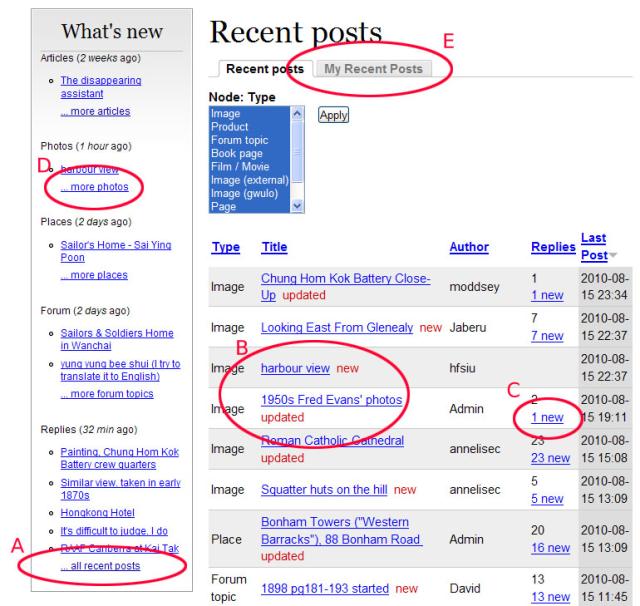 Date picture taken

unknown
The most recently added / updated / commented items are at the top, so it's easy to see what's new.
Many regular readers visit this every day or two to check what's new. You can bookmark it, or find it via the "... all recent posts" link on the left of every  page (A).
If you're logged in, it also shows you:
what's new or updated since your last visit (B)
and for items with new comments, you can also see how many comments have been added since your last visit (C). Try clicking that '1 new' link, it takes you straight to the first new comment on that item.
2. Just new photos please
New (old!) photos are always popular. If that's what you're interested in, click the "... more photos" link (D) on any page, and you'll see thumbnails of all the photos we have, newest first.
3. Only what I'm interested in
This is a popular option if you're an occasional visitor. Perhaps you don't have time to read the whole website, but there are a few items you'd like to monitor, and know if any new comments are added.
If you're logged in, on the Recent Posts page you'll see an extra tab, "My Recent Posts" (E). Click that and you'll see a page very similar to the Recent Posts page, BUT.... this page only lists items that:
You created (ie you appear as the author), or
You have added a comment to
Then you can quickly scan the list for any items that are new or updated, and click to read them.
---
If you have any trouble getting these to work, or have any questions, please leave a comment below so I can help.
Regards, David
Comments
Submitted by on
Submitted by on
Submitted by on