Map of AASL sites in Hong Kong
[Click any marker to see its name. Click the name for more details, and to see if we have any photos of the site. The marker's colour shows the current condition of the site: Red=demolished, Yellow=ruin, Blue=unknown.]
Background
The Anti Aircraft Searchlight (AASL) used in Hong Hong was either a 90 or 120cm diameter carbon arc type projector, with 80 V DC electrical power supplied by a generator driven by a Lister diesel engine. There were two types of site: fixed, where the engine was kept onsite, and mobile, where the engine and generator were truck mounted. The lights were mounted on four small caterpillar type tracks, and were hand towed to their position.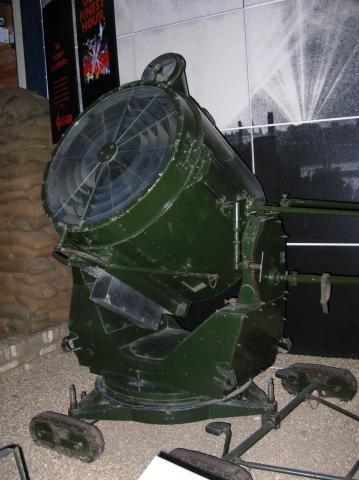 The sites were permanent, usually with concrete buildings used to store the equipment and engine, as well as act as a living area for the crews. A crew consisted of 11 members who operated the lights, sound locators, and the engine. The engine shelter was built some distance from the site, to reduce noise interference with the sound locators. A flat, circular platform near the equipment shelter provided a base for the light, with a nearby power outlet connected by cable to the generator.
Before the review of HK Defence in 1938, sites were distributed on both the Mainland and HK Island, for a total of 36 sites, however after the decision to defend only HK Island, those on the Mainland were withdrawn and additional sites prepared on the Island. At the time of the war, there were 14 sites only. The lights were not used in their primary role during the battle.
Note: This is best information available at present (2016). Further information or corrections will be appreciated.