AALMG positions were set up around Hong Kong and Kowloon for the protection against low flying aircraft of what was termed "Vulnerable Areas" e.g. Dockyards, Power Stations, Oil Company Tanks, Gun Batteries, AA Searchlights, to name a few. They were of limited effectiveness, mainly due to the short range and small calibre of the weapon chosen, and the limited protection for the operator.
The weapon was a Lewis .303 light machine gun, left over from the First World War. Two types of installation are known:
The first was a fixed position consisting of a circular concrete wall, with cut-out to allow the gunner access, and a cylindrical concrete post in the middle from which a vertical metal rod protruded, to which the gun was mounted, allowing all around firing. Remaining examples of this type have been found mostly with coastal batteries.
The second type was a metal tripod on which the gun was mounted, being positioned as required. Sometimes seen on top of buildings with a protective wall as part of the building, but also known from photographs to be in an open position, sometimes protected by a sandbag wall.  
This example of the first type is on the hill behind the Chung Hom Kok (Chung Am Kok) Battery, and is one of the few known to remain.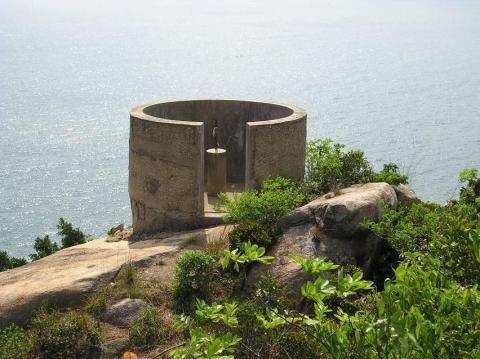 Submitted by on
Submitted by on