Guest author Peter Crush introduces a little-known resource with valuable information about the development of Hong Kong's industry and infrastructure in the early 20th century.
---
THE FAR EASTERN REVIEW
(Monthly Journal published in Manila & then later Shanghai 1904 - 1941)

The logo of The Far Eastern Review and examples of front covers
Introduction
Over the past 24 months I have created a number of Gwulo forum 'Topics' as well as posting individual images selected from this journal (hereafter the "FER"). Administrator David asked if it would be possible to prepare an index of Hong Kong-related extracts and post this as a forum topic for the benefit of followers and other researchers of Hong Kong history. I initially baulked at this suggestion bearing in mind that the entire run of 37 annual volumes (each, with a few exceptions, having twelve monthly issues) has overall about thirty thousand pages if advertisement pages are included. It had taken me some twenty years on and off to trawl through this journal looking for any pages containing any mention of early Chinese railway construction, which is my own area of special interest. I eventually finished my index project for Chinese railways within the FER last year. That project was not made easy by the FER's own poorly constructed and inconsistent indexes, which in some in some years were entirely completely lacking.
After further consideration I have prepared a provisional index for Hong Kong related reports within the FER based upon those annual Indexes or 'Contents' lists where they do exist. I have also utilized my accumulated knowledge of how this journal mutated and evolved in style over the years to search in other sections for likely references to Hong Kong (or rather "Hongkong", as was the normal spelling in this era).
The list below should not be regarded as exhaustive. In the first few years there were no annual indexes but (sometimes) short "Contents" lists which were limited to major articles. Many shorter reports were not listed but were published within sections of the magazine captioned (inconsistently) as Railway News, Engineering News, Construction News, Mining News, Shipping News or Commercial & Financial Reports etc.
For more detailed information about this journal including its history, evolution and how to find access to library holdings it is suggested that researchers should first read the Wikipedia page about The Far Eastern Review (follow this link) which was also created by Wikipedia & Gwulo contributor 'Chinarail'.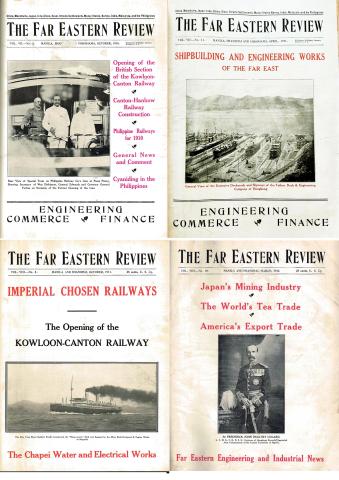 (Above) Examples of FER front covers containing articles about Hong Kong
Articles & Reports within the FER relating to Hong Kong
TOPIC

PAGE

DATE

The Kowloon - Canton Railway (re financing)

12

Jun 1904

Hongkong Street Railway

12

Jun 1904

The Kowloon - Canton Railway (comments from Singapore Free Press)

14

Jun 1904

Alexandra Buildings

35

Aug 1904

Hongkong Electric Co, ( AGM Report)

36

Aug 1904

Hongkong Wharf and Godown Company

12

Sep 1904

Kowloon-Hongkong Railway (re delay)

30

Feb 1904

List of Authorized Architects (from Gazette)

30

Feb 1904

Kowloon - Canton Railway ( prospects)

26

May 1905

Steam Launch "Bramtoco" (W.S. Bailey & Co)

18

Jun 1905

General Post Office & Government Offices

1

Jul 1905

Proposed Canton-Hong Kong Railway

104

Jul 1905

List of Railway Concessions Granted by China to England : from Canton to Kowloon 90 miles.

104

Jul 1905

Sir Thomas Jackson (biography)

83

Sep 1905

Industry of the Green Island Cement Co.

156

Nov 1905

Kowloon-Canton Railway (re survey)

157

Nov 1905

Palatial Residence of Sir Paul Chater

220

Jan 1906

Canton-Kowloon Railway (Chinese section)

325

Apr 1906

Foundation & Growth of the Institution of Engineers & Shipbuilders - ( 4, De Voeux Road )

338

May 1906

Kowloon-Canton Railway (British section) - Appointment of Mr. Graves William Eves.

358

May 1906

Kowloon-Canton Railway – rejection by Peking for control from Hongkong

27

Jun 1906

Kowloon-Canton Railway (outbreak of Malaria)

172

Oct 1906

Kowloon-Canton Railway, (re loan agreement for the Chinese Section).

236

Dec 1906

Canton-Kowloon Railway (loan agreement concluded).

273

Jan 1907

Kowloon-Canton Railway (agreement signed and construction was expected to start)

304

Feb 1907

Kowloon-Canton Railway (work on the British section work was being pushed ahead)

336

Mar 1907

Canton-Kowloon Railway (a share issue arrangement had been decided upon)

368

Apr 1907

Kowloon-Canton Railway Loan – subscriptions were being invited in London for building the Chinese Section.

395

May 1907

Kowloon-Canton Railway - heavy rains had wrought havoc in Kowloon.

59

Jul 1907

Images of new buildings on the recent Praya reclamation.: Prince's Bld.;King's Bld,; Hotel Mansions; Royal Bld.& Queen's Bld.

116

Sep 1907

Canton-Kowloon Railway ( survey of the Chinese section completed)

186

Nov 1907

Mr. William Danby M.I.C.E

.

(portrait & biography of prominent HK engineer )

193

Dec 1907

China and the Conquest of the Air - Mr Tse Tsan Tai – (designer of airships)

245

Jan 1908

Kowloon-Canton Railway ( PWD had issued an annual report on progress)

250

Jan 1908

Hongkong Typhoon Refuge

276

Feb 1908

Canton-Kowloon Railway (re progress, financing & suggested benefits)

290

Mar 1908

Hong Kong-Canton Railway (report by G.W. Eves, Chief Resident Engineer ).

327

Apr 1908

Hongkong Docks

368

May 1908

Hongkong Typhoon Refuge (proposed breakwater at Mong-kok-tsui)

357

May 1908

Obituary- A.H. Rennie Manager of Junk Bay Flour Mills who committed suicide.

372

May 1908

Another Hongkong Airship

376

May 1908

Hongkong Naval Yard Extensions

92

Aug 1908

Molave Shipment to Hongkong

95

May 1908

Review of the Railway Situation in China - (KCR & CKR covered on some pages)

111

Sep 1908

Canton-Kowloon Railway - Agreement between Wai Wu Pu & British & Chinese Corporation

148

Sep 1908

Kowloon-Canton Railway (Chinese Section - re a dispute over the appointment of adviser.

182

Oct 1908

Canton-Kowloon Railway (the Chinese were being pushed to complete their section.)

285

Jan 1909

Quarry Bay Dock – Butterfield & Swire's new godown at Kowloon Point

285

Jan 1909

The Trade of Hongkong

330

Feb 1909

Kowloon-Canton Railway (Kowloon tunnel expected to be completed in April.)

331

Feb 1909

Dredging for Hongkong Typhoon Shelter

356

Mar 1909

Kowloon Canton Railway (2-page report)

357

Mar 1909

Hongkong Typhoon Shelter

357

Mar 1909

HSBC – Half yearly meeting & financial report

358

Mar 1909

Hong Kong Railway Construction Accounts – (summary) for the year 1908

454

May 1909

Trade of Hongkong

88

Jul 1909

Kowloon – Canton Railway (British Section)

335

Nov 1909

Canton - Kowloon Railway (Chinese Section)

342

Nov 1909

Railways in China - Kowloon - Canton Railway

49

Jul 1910

Formal Opening of the British Section Kowloon Canton Railway

151

Oct 1910

Hongkong and Her Railway

167

Oct 1910

The Hongkong & Whampoa Dock Co. Ltd.

427

Apr 1911

The Taikoo Dockyard & Engineering Co.

429

Apr 1911

W. S. Baily & Co.

434

Apr 1911

Macdonald & Co.

434

Apr 1911

The Canton-Kowloon Railway (Chinese Section).

468

May 1911

Steel Wire Concrete Reinforcement (in construction of Hongkong Hotel)

487

May 1911

Sir Frederick Lugard's New Appointment -- Hongkong Governor to transfer to Nigeria

320

Mar 1912

New Steamers Built by the Taikoo Dockyard and Engineering Company

.

13

Jun 1912

The Hongkong University

24

Jun 1912

The Hongkong Law Courts

48

Jun 1912

Hongkong's New Post Office

317

Dec 1912

Hongkong & Shanghai Bank (half year results)

76

Jul 1913

Hongkong & Shanghai Bank (half yearly meeting)

115

Aug 1913

Kowloon-Canton Railway – estimated earnings

194

Oct 1913

The University of Hongkong – Historical Sketch of the Institution

134

Sep 1913

Hongkong and Whampoa Dock - new launchings

324

Jan 1914

Hongkong & Shanghai Bank (half year results)

325

Jan 1914

Wireless Station for Hongkong

479

May 1914

Export of Tin from Hongkong

491

May 1914

Hongkong & Whampoa Dock Co. launch steamer "Senang" on 29 May

41

Jun 1914

Hongkong Coinage Question

76

Jul 1914

"Star" Ferry Co. Ltd. - Financial report

106

Aug 1914

Hongkong & Shanghai Banking Corp. - (report of half-yearly meeting in Hongkong)

131

Sep 1914

Hongkong Tramways - 10th Year of operations

164

Oct 1914

Hongkong - Extension of City for south side of island

166

Oct 1914

Hongkong Additional Waterworks

165

Oct 1914

Wireless for Hongkong

212

Nov 1914

Imports of Molasses into Hongkong

213

Nov 1914

Hongkong's Water Supply

369

Feb 1915

Paper Pulp for Hongkong

410

Mar 1915

Shoe Factory Fails (in Hongkong)

410

Mar 1915

Hongkongs' banks (currency) circulation

36

Jun 1915

Hongkong Finances as at March 1915

76

Jul 1915

Hongkong Reclamation Project & Harbour Improvements

201

Oct 1915

Redemption of Hongkong Govt Gold Loan

314

Jan 1916

Taikoo Dock is Busy

373

Feb 1916

Export Trade of Hongkong

391

Mar 1916

Hongkong Shipyards Busy

445

Apr 1916

Hongkong Liquor and Opium Revenues

118

Aug 1916

Shipbuilding at Hongkong

388

Mar 1917

Hongkong Bank Notes

397

Mar 1917

Hongkong Shipping Report

717

Oct 1917

Chinese Bank at Hong Kong

718

Oct 1917

Hongkong Finances

718

Oct 1917

Hongkong & Whampoa Launchings S.S. Prosper, Helikan, Prominent & Hermelin

810

Dec 1917

Iron Accumulations at Hongkong

812

Dec 1917

Soap Manufacture at Hongkong

40

Jan 1918

Industrial Wealth of China – The Future of Hongkong - by C.A Middleton Smith, Professor of Engineering Univ. of HK

74

Feb 1918

Japanese Fear Hongkong Sugar Competition

124

Mar 1918

Motor Road Around Hongkong Island

199

May 1918

Building of Taitam Tuk Dam - History of Engineering Works which Afford Hongkong Ample Water Supply - by. D. Jaffé AMICE

215

Jun 1918

The Matshed Catastrophe in Hong Kong - the Engineering Aspects of the Disaster

221

Jun 1918

Hongkong Steel Foundry Co. (AGM report)

351

Aug 1918

Standard Ship Built at Hongkong - "S.S. War "Drummer" launched at HK & Whampoa Docks (see entry about sister ship "S.S. War Sniper" page 209 April 1921 below)

391

Sep 1918

Expenditure on Public Works in China – editorial comment about PWD, Hongkong

463

Nov 1918

Chinese Capital in Hongkong

489

Dec 1918

Roadways in Hongkong

497

Dec 1918

Marine Engines and Motor Boats in the Far East (with reference to Hongkong)

515

Dec 1918

Housing Problem in Hongkong

34

Jan 1919

Motor Bus Service Sheungshui-Autau

39

Jan 1919

Hongkong – General Description, Trade & Commerce, Shipping Port, Imports & Exports

194

Feb 1919

Hongkong Shipping Statistics

407

May 1919

The Canton-Kowloon Railway in 1918

571

Aug 1919

Reclamation in Hongkong – Kowloon Bay

88

Feb 1920

(and also Gwulo atoms 35762 –

4)

 
 

Modern Tannery in Hongkong

300

Jun 1920

Largest Hongkong Shipment of Manganese Ore

386

Aug 1920

Far Eastern Shipbuilding - Hongkong - Taikoo Dockyard & Engineering Co. & Hongkong & Whampoa Dock Co.

1

Jan 1921

https://gwulo.com/node/50588 & https://gwulo.com/node/49195
 
 

Huge Contract - Praya East Reclamation Scheme

396

Jun 1921

Hongkong's Industrial Future

616

Sep 1921

Hongkong Needs Boosting

623

Sep 1921

Kowloon - Canton Railway – (British Section) - New Terminal Station & Administrative Offices

633

Sep 1921

Hongkong Reclamation Scheme – award of contract

756

Nov 1921

Taikoo's Gift to the Hongkong University

757

Nov 1921

The Hongkong & Whampoa Dock Co. (advert) " S.S War Sniper" launched 1921

31

Jan 1922

The University of Hongkong - Engineering Facility

209

Apr 1922

"Blue Funnel" Launching at Hong Kong - S.S.'Rhexenor" built by Taikoo Dockyard

527

Aug 1922

Great Waterworks Scheme for Hongkong - Water from Taimoshan Mountain

635

Oct 1922

White Buses, Pride of Hongkong Hotels

717

Nov 1922

Motor Coaches on the Kowloon-Canton Railway

752

Dec 1922

Hongkong and Canton

160

Mar 1923

Hongkong and Canton ( British Policy in China)

223

Apr 1923

"Wayfoong" - Hongkong & Shanghai Bkg. Corp.(new Shanghai branch building with description of a Hongkong -themed decorative panel in the entrance hall)

445

Jul 1923

Hongkong Harbour Improvements - proposed reclamation of Hunghom Bay

456

Jul 1923

Road Making in Hongkong

492

Jul 1923

Kowloon Tramways

and

https://gwulo.com/atom/38565

703

Nov 1923

Hongkong's Contribution to Empire - Taikoo Dockyard and Hongkong & Whampoa Docks

231

May 1924

Hongkong and Whampoa Dock - Exhibits Model at Wembley

368

Aug 1924

New Firefloat for Hongkong Government

13

Jan 1925

Railway Carriages for Hongkong

146

Mar 1925

Launching of the "Taishan" by Taikoo Dockyard

668

Oct 1925

The Water Supply of Hongkong

33

Jan 1927

Ship Sales at Hongkong

91

Feb 1927

Firefloat for Hongkong

115

Mar 1927

Shing Mun Valley Contract

129

Mar 1927

New Ho-Tung, Engineering Workshops, ( for Hong Kong University)

221

May 1927

Gas Lighting in Hongkong

466

Oct 1927

Chinese government to contribute towards aerodrome at Kai Tak

381

Aug 1928

British Taxis for Hong Kong

381

Aug 1928

Guy Buses in Hongkong

478

Oct 1928

Thornycroft Busses (sic) for Hongkong

524

Nov 1928

New Motor Company in Hongkong

528

Nov 1928

Launch of Chinese Government River Gunboat at Bailey's Shipyard Hongkong

561

Dec 1928

Electricity Extension in Hongkong

93

Feb 1929

American Vessel Built in Hongkong

142

Mar 1929

An Auxiliary Built in Hongkong

168

Apr 1929

Hongkong and Shanghai Service (proposed air service)

192

Apr 1929

Mining in Hongkong

518

Nov 1929

Clifford & Clementi (HK Governor Clementi to transfer to Singapore & Malaya)

537

Dec 1929

New 800 Feet Piers for Hongkong

556

Dec 1929

New Automatic System at Hongkong - telephone exchange

47

Jan 1930

Automobiles in Hongkong

144

Mar 1930

Shipbuilding in Hongkong

204

Apr 1930

A Busy Shipyard (HK & Whampoa Dock)

65

Jan 1931

Praya East Reclamation Projection

102

Feb 1931

4-6-0 Type Locomotive for the Government of Hongkong

160

Mar 1931

Electricity Supply Scheme for the Province of Kwangtung, Macao and Hongkong

285

May 1931

Hongkong to Have New Brewery

366

Jun 1931

New Kowloon Power Station - China Light & Power Company

367

Jun 1931

Hongkong and Whampoa Dock Company Completes Huge Project

387

Jun 1931

Hongkong & Kowloon Wharf and Godown Company Makes Notable Record

392

Jun 1931

Hongkong - Canton Telephone Line Nears Completion

415

Jul 1931

Long Distance Telephone Service Now Links Hongkong And Canton

604

Oct 1931

Vehicular Ferry at Hongkong

704

Nov 1931

New Hongkong Reservoir

782

Dec 1931

Growth of Cement Industry in Hongkong - (New Plant at Hok Un by Green Island Co.)

228

May 1932

Hongkong Electric Company Installs Modern British Plant

310

Jul 1932

Hongkong Tells time by Telechron ( in new Gloucester Building Clock Tower)

487

Oct 1932

Hongkong Electric Company Ltd..

570

Oct 1932

Notable Year of Progress – Hongkong Telephone Company

415

Sep 1933

and also this link:-

https://gwulo.com/atom/37446
 
 

New Diesel Electric Ferry - The "Electric Star" Goes into Service at Hongkong

 
 

New Hongkong Bank Building

524

Nov 1933

Hongkong Fire Equipment

575

Dec 1933

Water Supply in Hongkong – A Triumph of Applied Science (by C.A Middleton Smith, Dean of Engineering Univ. of HK) - Part I

296

Jul 1934

" " Part II.

353

Aug 1934

Part III.

398

Sep 1934

Part IV.

447

Oct 1934

Part V.

491

Nov 1934

The Peel Engineering Laboratory at the University of Hongkong

13

Jan 1935

The New Home of the Hongkong & Shanghai Bank (construction of the new building)

379

Oct 1935

New Penang - Hongkong Air Route

259

Jun 1936

Hongkong Trade Fair

309

Jul 1936

Mechanization in China - Recent Tragedy in HK by Prof. C.A. Middleton Smith , HKU

339

Sep-
Oct 1937
NOTES:
1. Topics typed in italic text have been digitally scanned by Gwulo contributor 'Chinarail' and may be downloaded from the "Research.org."academic website free of charge. Follow this link ( https://www.researchgate.net/project/The-Far-Eastern-Review-Research-Notes-on-Chinese-railways ) and navigate your way to Chinarail's RESEARCH / PROJECTS / and click on PROJECT LOG / and then select the appropriate pdf file downloads by date. These scans covering some 35 years of reports within The Far Eastern Review between 1904 and 1941 are to confined to the development of China's railways ( including Hong Kong) . Because of the large pdf file sizes the project has been split into multiple sections (15 Parts)
2. A selection of topics not related to railways but concerning Hong Kong's industrial history has also been scanned and provide the basis for some Forum Topics posted on Gwulo. Where this is the case in the above list, active hyperlinks to the relevant Gwulo (or external ) websites are highlighted. To read the specific topic just click on the highlighted link. Note, however that posts only include illustrations and limited extracts of the original text and illustrations. For the full publication researchers should resort to accessing the relevant full editions of The Far Eastern Review
3. A full Contents and Index project for almost the entire run of the journal. This is also downloadable as a pdf file from the Researchgate.org.'s website: https://www.researchgate.net/project/THE-FAR-EASTERN-REVIEW-INDEXES-CONTENTS-PAGES ( follow the link and select the appropriate Project Log for the download ). However, bear in mind this project is not comprehensive and is based upon the indexes if and when published and many shorter reports within the FER were omitted.
---
Thanks to Peter for the considerable effort involved in compiling the above list, and for generously sharing it with us.
Peter came to Hong Kong from U.K in 1965 as a trainee police inspector after completing sixth-form science studies at the King's School Macclesfield. In 1972, having resigned from the police force he went on to have a twenty-year career with HAECO at the former Kai Tak Airport. While serving with this company he also invested in his own businesses, one of which was the establishment of The Railway Tavern, in Tai Wai.
Descending from a family with a long railway background he has also found time to pursue an interest in researching Chinese railway history and rail-spotting around China. Over a thirty-year period, he has accumulated a large collection of photographs, documents and ephemera associated with this hobby, a resource which is now increasingly consulted and cited by other historians in publications and exhibitions. He has two books published on Chinese railways history and is Honorary Curator to the Kailuan Mine Park  (开滦国家矿山公园 ) and associated railway museum in Tangshan, north China and has recently been appointed as Honorary Research Fellow of the Macau University of Science &  Technology's Tong King Sing Research Centre.  Peter is also a Wikipedia on-line encyclopaedia contributor and writer.
In the initial introduction Peter mentioned he has contributed several pages to Gwulo, often based on clippings from the FER. Here is a list of the pages he has created and / or contributed to, under his pen name 'Chinarail'.