We found this while crashing through the undergrowth above Mount Davis Road. Here's the first stone we saw, which Thomas says indicates a mass grave:
There was also this grave, which was the only one we saw that is still visited and maintained:
But most of the graves were just marked with very simple stones, simply showing a number. There are lots of them, here are a few: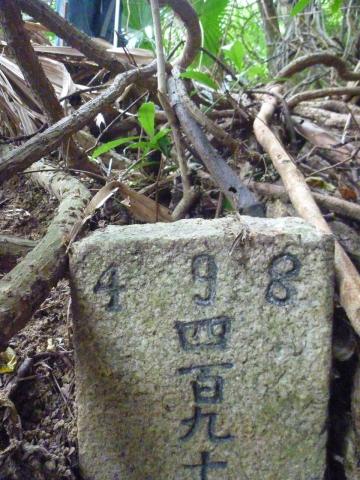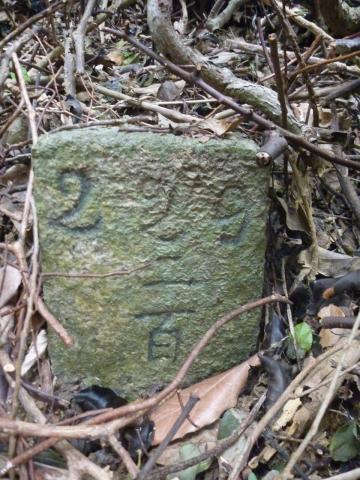 They reminded me of this photo from Stephen Chadwick:
He took it in the 1950s, when he was stationed in the RAF facility at the top of Mount Davis. He wrote:
Grave believed to be war time. [...] We found numerous graves and tunnels dug into the hillside. These were discovered after a brush fire on the mountain.
The wartime explanation would be a reason for the simple gravestones. However they're actually a fair bit older than WW2.
I searched for davis cemetery in HKGRO, and found several mentions:
The "Military path" reference is interesting, as there is an old concrete path in the area that runs from near these sites to the top of Mount Davis and the coastal defence batteries there. Those batteries were built around 1909-1912, fitting in with the 1914 date for the path.
There are a couple more pre-WW2 mentions that graves would be cleared for building work in the area. It looks as though there are still many graves that were never removed. I wonder if the records still exist to show who was buried at each of those numbered graves?
Regards, David
Comments
Submitted by on
Submitted by on
Submitted by on
Submitted by on
Submitted by on
Submitted by on
Submitted by on
Submitted by on
Submitted by on
Submitted by on
Submitted by on
Submitted by on
Submitted by on
Submitted by on
Submitted by on
Submitted by on
Submitted by on
Submitted by on
Submitted by on
Submitted by on