4 April 1954   -   One of our boats had a fire a few days ago, it was heart-breaking.   She had just been refitted…she looked beautiful, then the crew worked all day on her and with just ten minutes work left one of the chinese decided to make tea.   The stove blew up.
26 April 1954   -   At last I have found out the name of that tanker I told you of.   It is the "Itukusama Maru".   The photos will show you the mess that she is in.   The close-up is all that is left of her stern.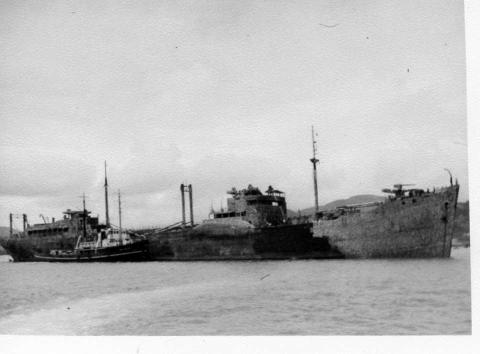 "Itukusama Maru"
Badly war-damaged Japanese cargo ships and tankers were suddenly appearing in Hong Kong harbour.   They had been sunk or put out of action during the war back in 1944/45 and only "now" in 1954 were they being salvaged.
((Update, January 2015: The salvaged ship has been identified as the Itsukushima Maru. Please see the comments for details.))
Comments
Submitted by on
Submitted by on
Submitted by on
Submitted by on
Submitted by on
Submitted by on
Submitted by on
Submitted by on
Submitted by on
Submitted by on
Submitted by on
Submitted by on
Submitted by on
Submitted by on
Submitted by on
Submitted by on