20 September 1953   -   On Wednesday we received a typhoon warning so off we went to the typhoon anchorage; lunchtime Wednesday until 11am Saturday, approximately 72 hours.   We were rushed so much that all I had was what I stood up in and no more, no washing kit no change of clothes, blankets, nothing..   Altogether we managed about 15 hours sleep…at one time we were really worried.   we had a weather forecast over the w/t, it said "Typhoon Susan is expected to pass directly over Hong Kong at midnight, winds increasing to hurricane force."   As you can imagine that had us really worried.   As it happened it passed thirty miles to the south of us but for all that we nearly had our chips.   We saw one sampan sink but the Chinese in it were saved.   They were letting off fireworks and throwing bits of paper.   The crackers were to scare the demons away and the paper that was thrown on the water was a form of sacrifice.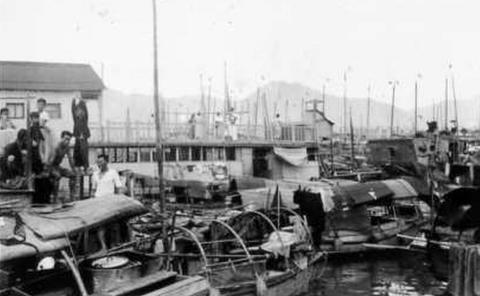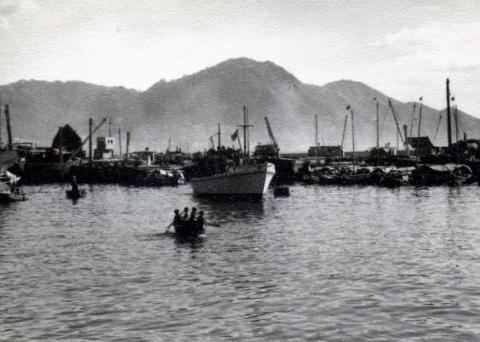 The typhoon anchorage at Yaumati
27 September 1953   -   I'm building up a financial reserve with credits out here so the w.e.(?) is perfectly safe in being used for photography…I forgot to tell you how much I have in credit.   It's over £8 so I'm flush, well and truly…
I've been thinking about taking three weeks leave early next year and go to Japan…all that the passage costs on a trooper is the ration money for the time I was on the ship then I could stay at a YMCA or something like that, even an army camp but it would be a wonderful experience.