"We Just Got On With It: British Women in World War II", written by Bette Anderson.
     (Publication Date: 1994 , Edition: 1st Edition)
Page 28: "POW Camp Stanley, Hong Kong . Miss Olga Franklin , Superintending Sister QARNNS , talking to Admiral Harcourt , Officer Commanding the relieving force 1945."
The Imperial War Museum also has a preliminary description of this photo but mistakenly wrote "Miss C. Franklin" instead of "Miss O. Franklin".
Catalogue number :A 30509
https://www.iwm.org.uk/collections/item/object/205161628
"Internees crowd round their liberator, Rear Admiral C H J Harcourt, Commander of the British Task Force which entered Victoria Harbour, Hong Kong, the Admiral made it his first job to meet the people who had been under Japanese control for three and a half years. Here, he is talking with Miss C Franklin, former Matron of the British Naval Hospital. "
For information about the situation at that time, we can also refer to Sir C. Grenville Alabaster's wartime journal "More Than 1001 Days and Nights of Hong Kong Internment".
https://gwulo.com/media/45281
"On the 30th , Mr. Gimson sent in a Colonial Office telegram , received via Macao , giving news of Win , and at 5.30 in the evening the Union Jack and Allied flags were hoisted in the camp and Mr. Gimson brought Admiral Harcourt , to whom I was introduced. He congratulated me on my knighthood and said that Mr. Gimson and Dr. Selwyn Clarke had each been awarded a C.M.G. decoration. "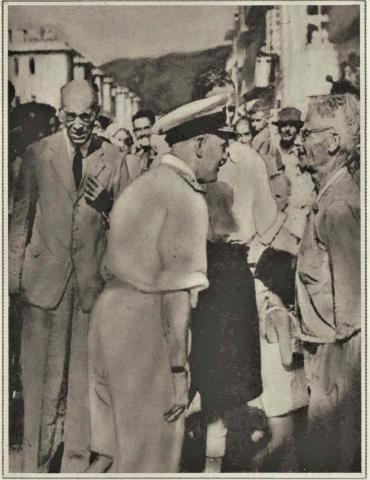 Admiral Harcourt's subsequent ROP.
"We first of all drove out to Stanley Camp which housed all the civilian internees. On arriving we found everyone awaiting us and we had a most unforgettable welcome. Having met the leading members of the camp, I was informed that they were preparing a ceremony for the hoisting of the Union Flag."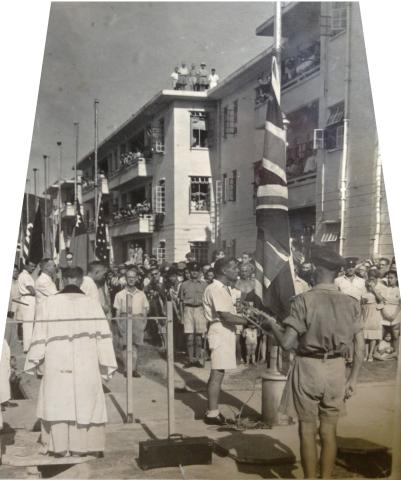 Date picture taken
30 Aug 1945