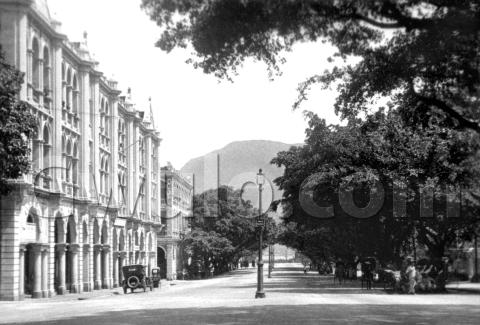 Not your usual death-by-powerpoint! I'll bring along a selection of my favourite photos, all scanned at high resolution. We'll use a projector and a big screen so we can zoom in to see their hidden details, and I'll tell you all about their stories.
Talks last around 45-50 minutes, then I'm happy to answer as many questions as the audience has to ask.
A typical audience is around 30-50 guests, though I've also given talks to smaller groups for businesses, and to larger groups for clubs. (The current record is 160 - can you help me crack 200?)
I have five talks in all - here are outlines of the first three: #1, #2, and #3.
Please click here to contact me to arrange a talk. 
Feedback from the Royal Hong Kong Yacht Club:
David Bellis has given three talks at the Royal Hong Kong Yacht Club, each of which has been extremely popular with our members. David has a vast collection of historical photographs which have been painstakingly digitally enhanced and these alone are fascinating material. When you add to these David's in-depth knowledge of Hong Kong history, attention to detail and relaxed yet clear delivery, you are guaranteed a highly enjoyable, informative and interesting evening. I very much hope that David will continue to put together different presentations in the future and would welcome him back at this Club any time.
Linda Davy
Member Relations & Communications Manager
Royal Hong Kong Yacht Club
Feedback from The Helena May:
David Bellis has given 3 talks for The Helena May on Hong Kong's history through using digitally restored and high-resolution old photographs.  By zooming in, it was fascinating to see the hidden details which David used as clues to old Hong Kong's way of life back in the early 1900s.  I especially enjoyed how he weaved personal stories out of these details.  We were invited to contribute any insights into buildings shown and felt we were in a detective story as we shared snippets of information.  I would definitely go to any future talks given by David. 
Ms. Lynn Seymour
Chair of Activities
The Helena May
Read a longer review from the Royal Asiatic Society Hong Kong magazine.