For any Blue Peter fans reading. "Here's one I prepared earlier". We started our family summer holiday yesterday, so there'll be a break in posting new photos for a few weeks. We're back to Hong Kong in mid-August.
Where: Looking south along a deserted Nathan Road.
On the left edge of the photo is a tree that marked the junction with Carnarvon Road. Looking further along can see a gap between the two buildings. That's the turning into Mody Road.
Here's how it looks today:
Who: Most of the people we can see are rickshaw pullers. There are several running north up Nathan Road - probably carrying passengers from the Star Ferry.
Mon, 09/22/2014 - 23:14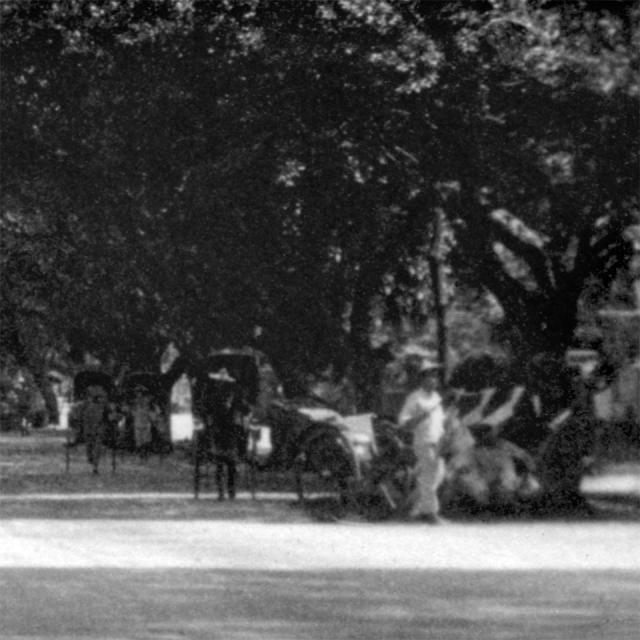 Several more rickshaws are parked under the tree in the foreground, waiting for customers.
What: A line of lamp posts running down the centre of the road. Here's a close-up of the nearest one:
Mon, 09/22/2014 - 23:14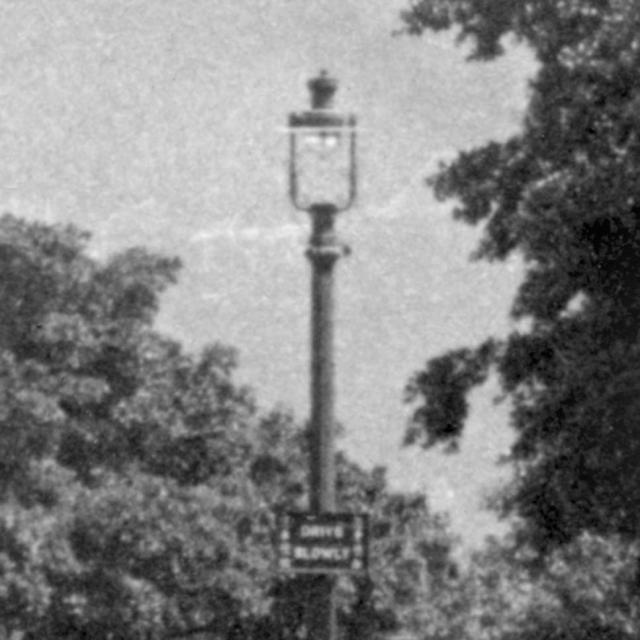 Can anyone tell if it is a gas or electric lamp? It'll help us with the dates in a moment.
Also note the "Drive Slowly" sign. I imagined that having iron posts in the middle of the road would cause lots of accidents. The local newspapers of the time do have several articles about accidents along Nathan Road. No reports of anyone hitting the lamp posts though.
When: I hoped the lamp posts would help us narrow down the date. The annual reports for the Public Works Department [1] do have a couple of paragraphs about lighting each year, but usually just report how many new lights were installed without telling us where they were placed.
Here are the few reports from years 1915 - 1930 that give extra information:
1915
73. "To more effectively light Nathan and Salisbury roads, 'Suggs pattern' high-candle-power lamps were erected centrally, the old lamps being removed to other roads where additional lighting was required."
146. 25 lamps gas lamps were erected and 15 gas lamps were removed along Nathan Road.
1918
70, 71, 123. There's a note that 15 x 100 Candle-Power "Electric Lamps (incandescent)" were erected on Nathan Road, but it doesn't say where.
1923
73, 74, 75. "The central standards in Gascoigne Road and the side standards in Chatham and Coronation Roads were removed, and 400 c.p. centrally suspended lights installed, these being supported by new iron side standards." ((Would Nathan Road have received similar treatment, as one of the busy roads in the area?))
1928
67. "Gas lighting. The total number of lamps in use at the end of the year was 534, a decrease of 2 over the previous year, due to electric lights being substituted in Nathan Road."
If you can spot anything that suggests a date, please let us know in the comments below.
Regards, David
Trivia:
The first mention I found of a collision along Nathan Road didn't involve any motor vehicle at all: In 1922 a drunk cyclist collided with a police constable! (China Mail, 1922-4-20, page 1)
References:
The various departments' annual reports are available on the HKGRO website. Here are direct links to the Public Works Department reports mentioned above: 1915, 1918, 1923, 1928.
Reference: A184A
Comments
Submitted by on
Submitted by on