Where: Looking south along Wong Nei Chung Road in Happy Valley. On the left of the road is the racecourse, while behind the walls on the right are several cemeteries.
The ornate stone gateway in the right foreground was the entrance to St Michael's Roman Catholic Cemetery. The cemetery is still there, but we've lost the old wall and gateway to a later road-widening:
When: This comes from an album of photos dated to the mid 1920s.
What: The tram is a double-decker, but one of the older models that only has a simple canvas roof.
Mon, 09/22/2014 - 23:16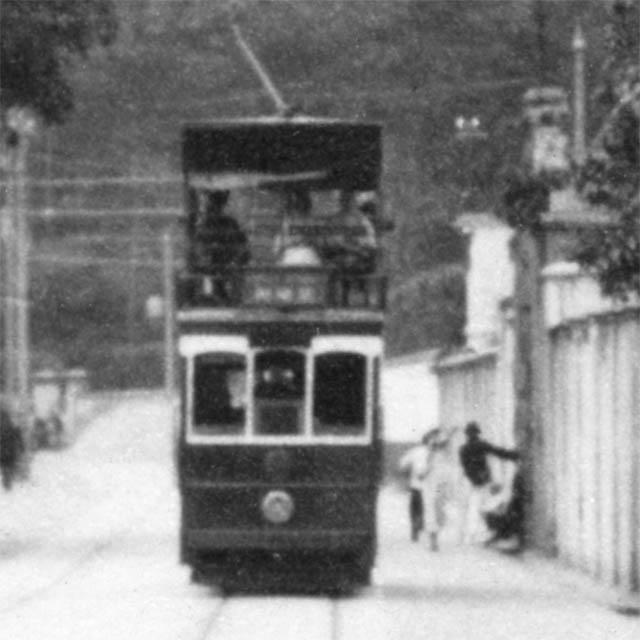 Can anyone tell us more about the building on the left?
Mon, 09/22/2014 - 23:16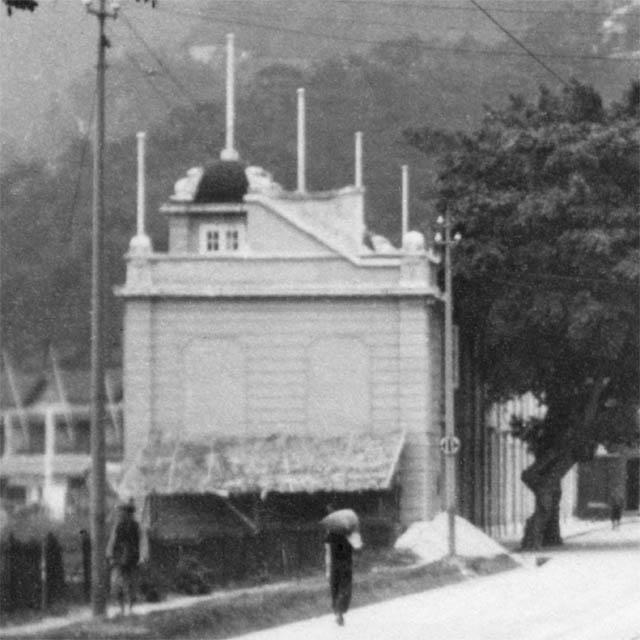 To get a rough idea of when it was built, it can't be seen in a 1910 photo of the area [1], but it is shown in a later photo dated 1923 [2].
It looks like a grandstand for the racecourse, but it's on the small side compared with the larger grandstands visible in the distance. I wondered if it was built as a replacement for the matshed stands they used to build in the north-west corner of the racecourse until the terrible fire of 1918 [3]. Can anyone tell us more about it?
Who: There is a group of people next to the tram. Have they just got off the tram to visit the cemetery, or just happened to be standing at the gate as the tram passed by?
And how about this man?
Mon, 09/22/2014 - 23:16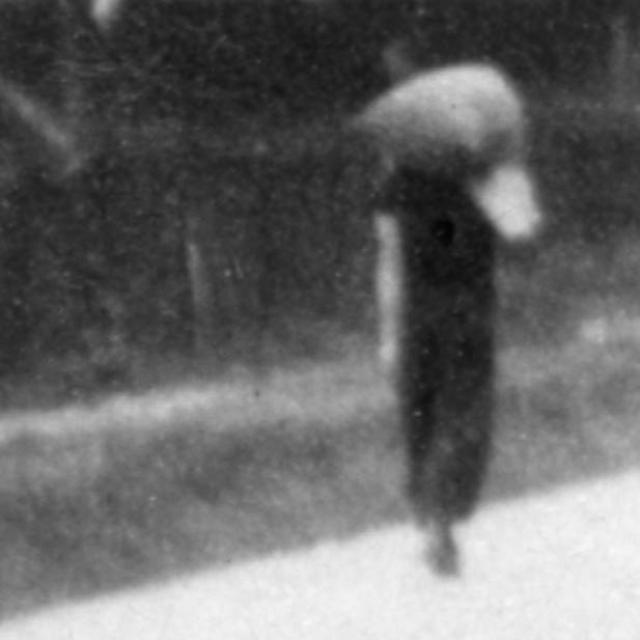 Can't afford the tram fare, or can't manage to squeeze whatever he's carrying past the tram conductor?
And where is he heading? Home to Wong Nai Chung village perhaps, further along the road? It'd depend on the exact date the photo was taken. The village pre-dated the arrival of the British in the 1840s, but it was abandoned after the great Typhoon of 1923 [4]. So if the photo was taken around 1925, he's probably just carrying something to either the racecourse or one of the cemeteries.
---
What else can you tell us about this photo?
Regards, David
PS An update on last week's photo of the beached ship - I got both the year and the ship wrong! It was actually a photo of the Chinese Navy's ship Hai Chow, washed ashore near Kowloon City in a typhoon of 1936.
References:
Reference: A184B
Comments
Submitted by on
Submitted by on
Submitted by on
Submitted by on
Submitted by on
Submitted by on
Submitted by on
Submitted by on