[Update, 22 May 2012: If you read the comments below you'll see the ship has been identified as HMS London, and the date around 1948/9.]
What: I'm hoping one of our nautical readers can tell us which ship this is.
Where: Behind the ship is the big chimney that we've seen before [1]. It was attached to the Naval dockyard's power station.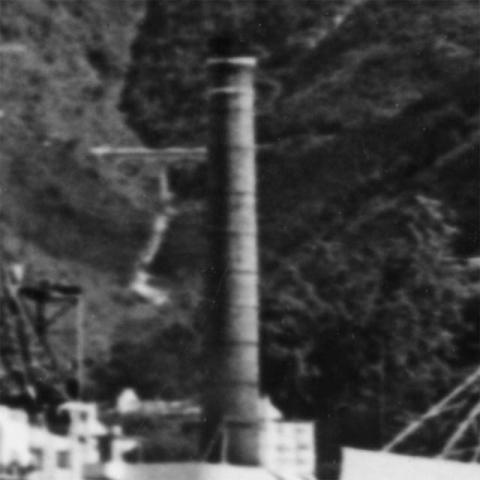 The ship was moored across the front of the dockyard's dry dock. Today the PLA's Central Barracks are on the site of the old dry dock, so if you imagine the wall along the northern edge of those barracks, that's about the ship's location.
Over on the left of the photo is the entrance to the old tidal basin. That's now the site of the new Central Government Complex.
Who: We're not close enough to see anyone, but if we could they'd be sailors!
When: I've guessed it's in the 1930s, but it's not a very confident guess.
One clue is a relatively modern building in the lower-right corner of the photo: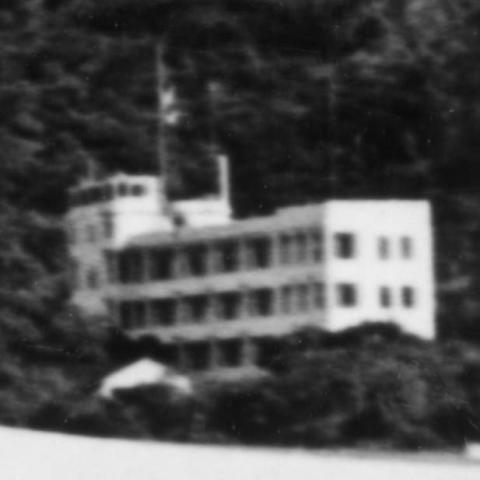 It's further back, and a little way up the hill. That puts it out of the Navy's land and over in the Army's Victoria Barracks. I think it was the Army's headquarters building, built in the 1930s. Can anyone confirm?
It's also interesting to compare the skyline with a later photo taken around 1968-9 [2].
Similar photos taken immediately after WW2 show the Japanese War Memorial [3] on the left hilltop, and an empty space where the building in the centre stands.
So either this black & white photo was also taken post-war (and post-demolition of the Japanese War Memorial), or the resemblance between the pre- and post-war skylines is just a coincidence.
Any thoughts?
Regards, David
References:
Reference: EA016
Comments
Submitted by on
Submitted by on
Submitted by on
Submitted by on
Submitted by on
Submitted by on
Submitted by on
Submitted by on
Submitted by on
Submitted by on
Submitted by on
Submitted by on
Submitted by on
Submitted by on
Submitted by on
Submitted by on
Submitted by on
Submitted by on
Submitted by on
Submitted by on
Submitted by on
Submitted by on