Where: The title on the front of the postcard says it all:
Bathing Beach, Repulse Bay, Hongkong
When: Later than this 1919 photo on Flickr:
It shows the Repulse Bay Hotel under construction, and less beach huts and buildings than we see in our photo.
But earlier than 1935, as there's no sign yet of the Lido, which opened that year:
Mon, 09/22/2014 - 19:31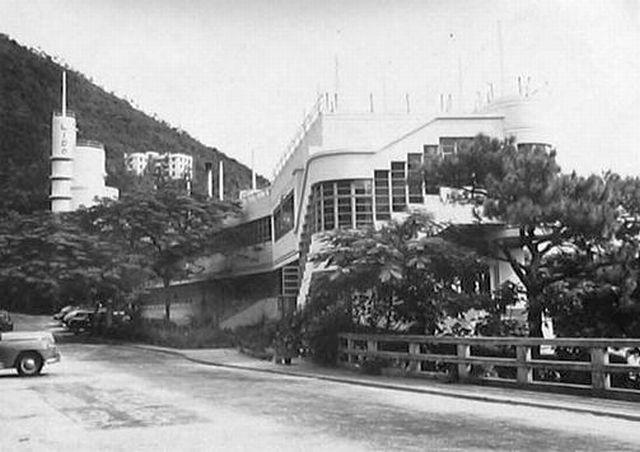 Received via email:
The Lido Bathing Pavilion on eastern Repulse Bay was completed in 1935. Photo from the 1940s attached.
So I'll guess the halfway point, 1927, as the date for the main photo. If you can narrow it down further please let us know in the comments.
Who: Despite the postcard's title, there's not a lot of bathing going on. In fact not a lot of anything, with just one man in sight. Maybe the photo was taken out of season, or just early in the day before the crowds arrived?
For comparison, here's a short film showing a much busier day at Repulse Bay in the mid-1930s:
What: Just above the tiled roof in the foreground, is a small stone structure with steps leading up to it.
Mon, 09/22/2014 - 22:28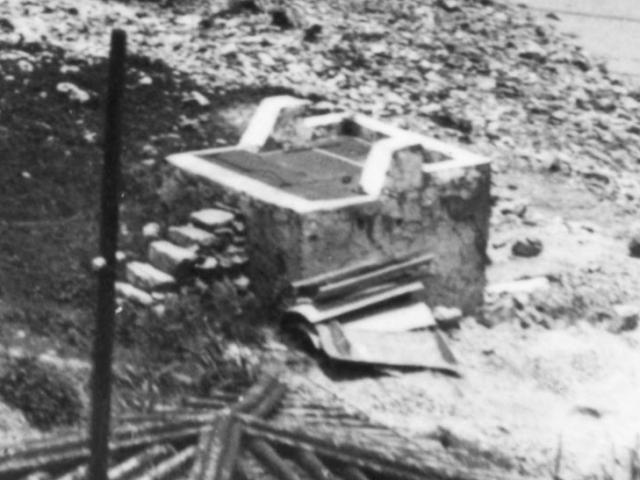 I've seen old photos that show a wooden pier running from the beach out to sea. Could this have been the head of the pier?
The chinese name for the bay translates to 'shallow water bay', so a pier would have made getting to and from the beach a lot easier if you arrived by boat. There's no pier in this photo though. It probably fell out of use as visitors switched from boats to cars.
Also note the concrete channel in the very bottom-right corner of the photo. In Marsman's book about his experiences in the 'siege' of the Repulse Bay Hotel in 1941 [1], he wrote of the need for an air raid shelter, and where they eventually found one:
A ready-made shelter was under our feet - an ideal one. A concrete drain eight feet in diameter descended from a culvert in the rear of the hotel, passed beneath the structure, and ran along down under the road to empty on the beach near the water's edge.
I wonder if the concrete channel in the photo is part of that same stream?
---
If you can see anything else of interest in the photo, please let us know in the comments below. I'd certainly like to know if anyone recognises the building under construction in the top centre of the photo, to help date the photo more accurately.
Regards, David
References:
"I escaped from Hong Kong", book by Jan Henrik Marsman
Reference: A127
Comments
Submitted by on
Submitted by on