From:
HONG KONG, ANNUAL DEPARTMENTAL REPORT BY THE DIRECTOR OF MARINE J. P. HEWITT FOR THE FINANCIAL YEAR 1962 - 63
118. The first harbour office was, as were all Government offices in 1841, on board a ship (1) in the harbour.
However, later that year a mat shed (2) was constructed on the waterfront at the corner of the present Wyndham Street and Queen's Road Central to accommodate the Harbour-master, Assistant Harbour-master and the Marine Court.
The next harbour office, in 1843, was a room in the Harbour-master's house (3) built, at his own expense, on a hill in close proximity to the present South China Morning Post building.
Two years later [i.e. 1845], a brick building was erected on the present site (4) of the Hongkong and Shanghai Bank [possibly nearer to the site where City Hall was built later – see link under 4] this being occupied by the Harbour Department
until 1866 when a permanent harbour office was built on reclaimed land near the present site (5) of the Sheung Wan Post Office. Unfortunately, this building collapsed some seven years later and the harbour office staff had to be accommodated in a temporary wooden erection near the present site (6) of the Western Police Station until 1874 when the harbour office was re-built on its original site.
The present building (7) at Connaught Road, Central was occupied in 1906 and was described by the Harbour-master in 1908 as being in every way satisfactory, being lofty, commodious, excellently arranged, and conveniently placed. A map of the Central and Western districts of Hong Kong showing the various sites of the Marine Department since 1841, as numbered in the above text, is shown below.
Number (8) in the map refers to the proposed site of the new Marine Department Headquarters scheduled for 1968.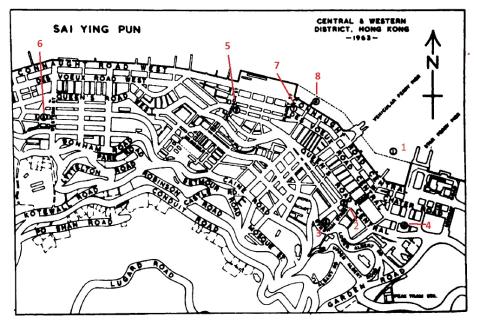 Addendum (from Part1 Chpater 6.5 - Renaming of the Marine Department and its organisational development (mardep.gov.hk))
The department's headquarters had been housed in the same building on the Connaught Road waterfront since 1906. In as early as 1956 the department realised that the continuing expansion of shipping and port activities would render the building no longer viable. It was therefore suggested that a block of government offices accommodating the Marine Department should be built as part of future reclamation projects.
Foreseeing that such work might take decades to complete, the department utilised its then headquarters to the fullest possible extent in the period 1948-1966. For example, in 1963 the headquarters underwent the following changes: a portion of the first-floor verandah was enclosed to form a typist pool; an information counter was established at the main entrance; an office was partitioned to provide accommodation for ship inspectors; and a partially glassed cubicle was erected in the Port Control Office to accommodate the Senior Marine Officer. Such changes enabled the Marine Department to cope with its increasing workload.
Markers
1
2 Temporary Harbourmaster's Office [1841-????]
3 Harbour Master's House /Pedder's Hill [1841-????] | Gwulo
4 Harbourmaster's Office (1st Generation) [????-c.1868] | Gwulo
5 Harbour Office (3rd generation) [1866-????] | Gwulo
6
7 Harbour Office (4th Generation) / Marine Department building [1906-1983] | Gwulo
8 (never built, see addendum above)