Subtitle: "From England to New Zealand via Hong Kong and a War".
Featuring first-hand accounts of -
- Flying from England to Hong Kong in 1938 by Imperial Airways flying boat in 6 days,
- Working for Cyril (Ginger) Rogers of the Chinese Currency Stabilisation Fund,
- Expatriate life in Hong Kong 1938 - 1941 including yachting, climbing, parties,
- Falling in love and marrying John Potter of Leigh & Orange and HKVDC Air Arm in 1939 (killed in action 25-12-41),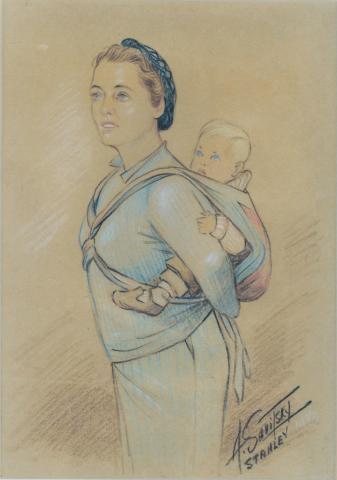 - Life in Stanley Internment Camp 1942 - 1945 and repatriation on the Empress of Australia,
written by my mother Norah Potter (nee Huson). She loved Hong Kong. It was her "Beautiful Island", until...
The balance of the story and the choice of the many illustrations is the work of Chris Potter (born 3-9-1941, War Memorial Nursing Home).
https://www.amazon.com/My-Beautiful-Island-Chris-Potter/dp/0995149917
Dates of events covered by this document
-
Sample pages
Matilda Hospital 17th December to 4th January 1942
Christopher and I arrived at the Matilda at 7.30 in the morning on a cold, grey day with all our possessions in a bundle and one basket. Lise Huttemeier and her baby were with us. I was desperate for shelter – at any minute the shelling and raiding might begin. I went in, there was no-one about. At…
Repatriation   ((This is the last entry in Norah's diary.))
Repatriation was not comfortable. First, we were taken from the camp in rowboats to a much larger launch; we had to climb up into it by nets. Then we were taken to Hong Kong harbour to embark into the Empress of Australia. I think the really sick - Mr. Davidson was one - were taken on board the Mount…
Comments
Submitted by on
Submitted by on
Submitted by on
Submitted by on