I found this very interesting Japanese position on Mt Cameron last week.
We started at the valley near the top between the two summits, and followed the path down past the old covered reservoir towards middle gap rd. A couple of hundred metres down we jumped down the left side into the stream valley and found this Japanese Pillbox. It is U-shaped with two loopholes, one facing upstream and the other downstream. There was a tunnel in the middle of the pillbox about 3 metres deep and then bending away into the hillside. I jumped down for a look, but the tunnel only went into the hill about 10m. The original roof has collapsed but you can see where the support beams once held it up. 
This is the first time I have come across a Japanese Pillbox and tunnel with this design. There is a much bigger tunnel network on Black's link (see: http://gwulo.com/node/3112) with a brick gun position in front, but that is little more than a small wall with a loophole to fire out of.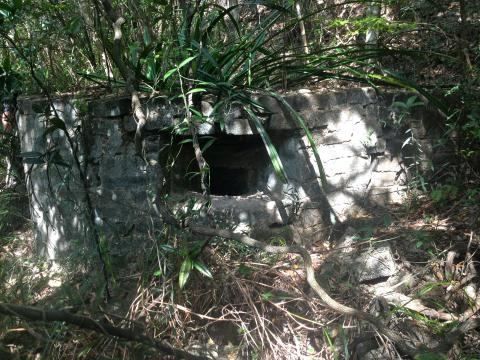 Comments
Submitted by on
Submitted by on
Submitted by on
Submitted by on
Submitted by on
Submitted by on
Submitted by on
Submitted by on