Where: Not a hard one to locate - we're looking across Salisbury Road towards the Peninsula Hotel. What's not so clear is where the photographer took the photo from. He was certainly high up, level with the third or fourth floor of the hotel.
Here's another view of the area, taken from Signal Hill around 1935:
Mon, 09/22/2014 - 22:36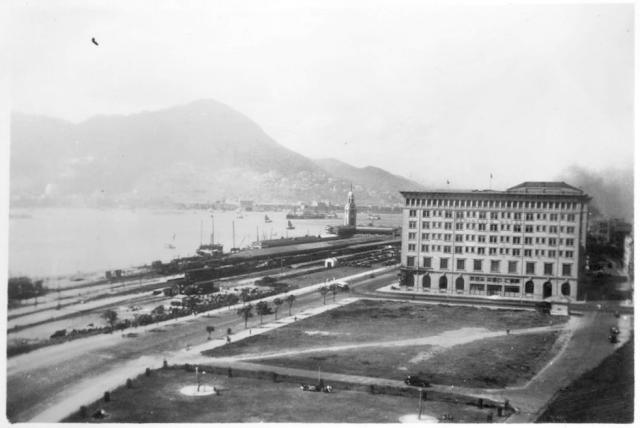 The view from Signal Hill.
There aren't any buildings between the Peninsula and the sea. Did he climb up onto the
roof of the station platforms?
Who: There aren't many people to be seen - certainly very different from TST today. We can see a few people taking a stroll along Salisbury Road, but the busiest area is over to the left:
Tue, 09/23/2014 - 07:30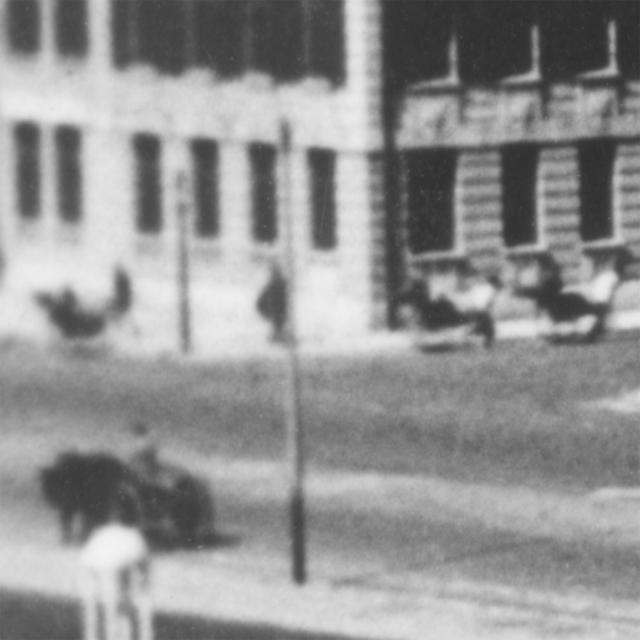 A couple of rickshaws have just turned into Hankow Road, likely carrying passengers from the Star Ferry. Then down in the foregound is a larger vehicle, possibly a horse & cart.
What: The building on the left is the old YMCA:
Tue, 09/23/2014 - 07:30
It's since been replaced by a new YMCA at the same location.
The Peninsula is still the same building, but with some major changes.
Tue, 09/23/2014 - 07:30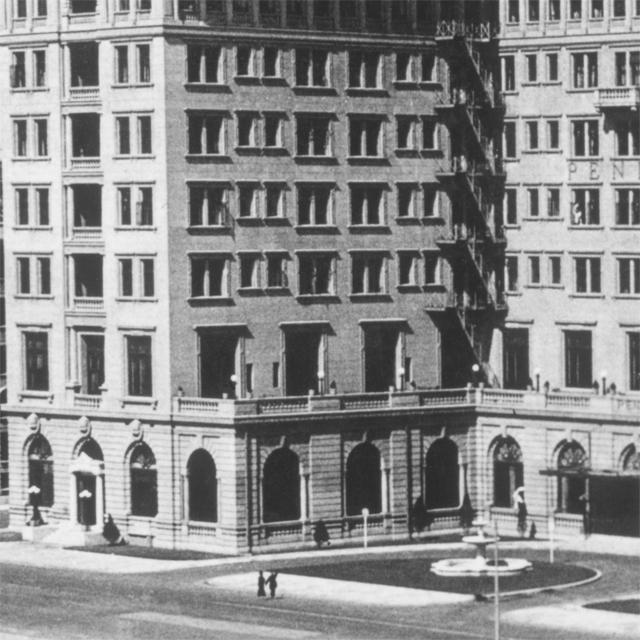 The original fountain was much more modest than today's. There was also more of an open-air feel to the old hotel - a large, open balcony on the first floor, and also more balconies running down the end of each wing.
Across the street from the Peninsula is this:
Tue, 09/23/2014 - 07:30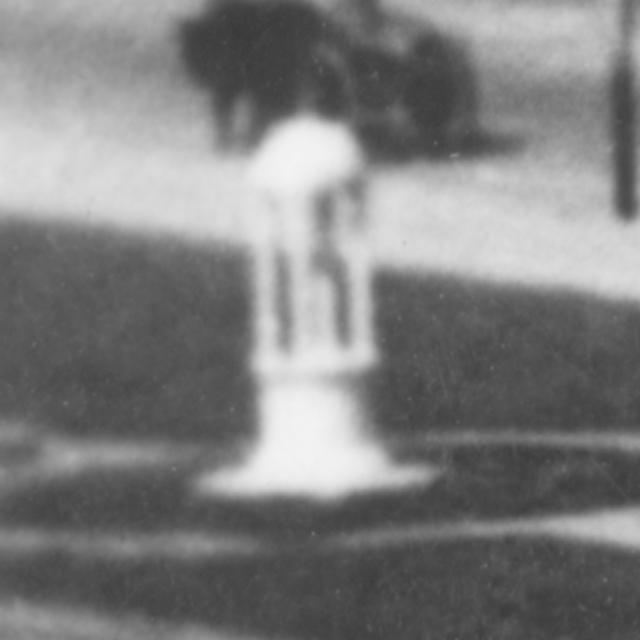 A drinking fountain perhaps?
Looking along Nathan Road, there's this structure on the roof of the hotel:
Tue, 09/23/2014 - 07:30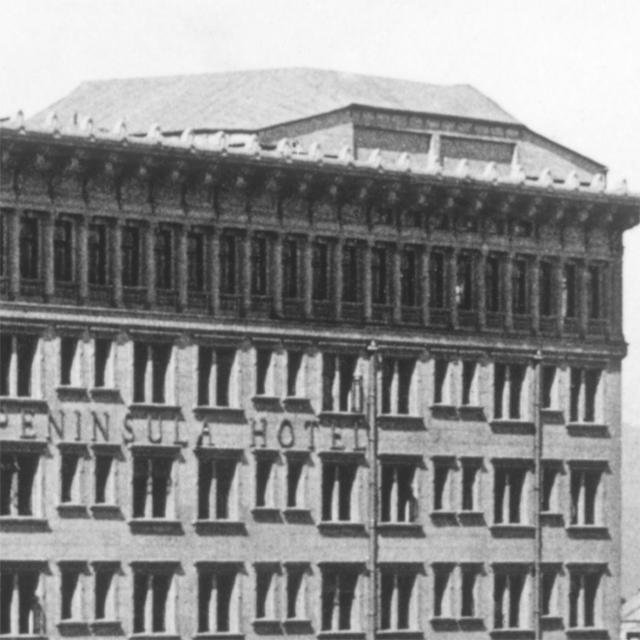 Does anyone know what it is used for? It reminds me of Darth Vader!
Then across Middle Road is a house set back from Nathan Road with what seems an impossible luxury today, its own garden...
Tue, 09/23/2014 - 07:30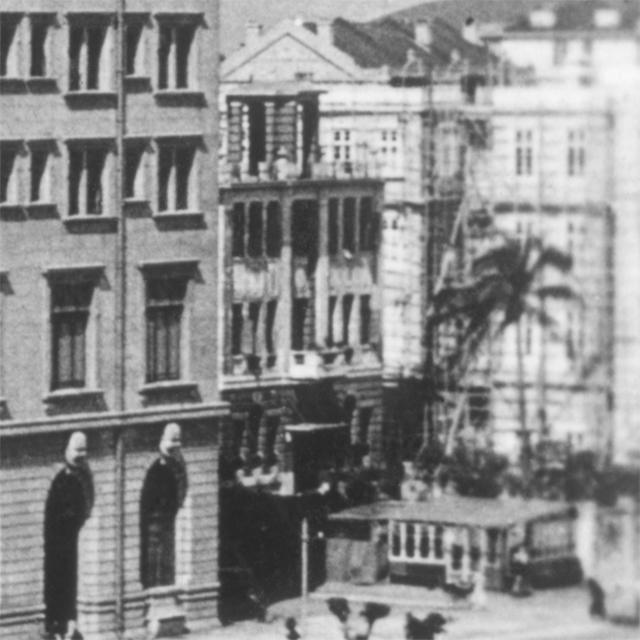 When: This photo is another from the soldier's album of postcards bought in 1945. In 1945, the Peninsula still wore the camouflage paint-job that the Japanese had given it, so this photo must have been taken pre-war.
The big buildings don't help much - the YMCA opened in 1925 [1], and the Peninsula opened to the public in 1928, though it was completed earlier [2].
The building under scaffolding on the far right of the photo might be a better clue. It was a guest-house that changed owners and name many times times: Airlie House, Chardhaven, Baron's Court, <Name unknown during Japanese occupation>, and Star Hotel. I've previously estimated it was finished in 1932 [3], and as it has scaffolding up in this photo, I'll go with that.
Corrections welcome!
Regards, David
Elsewhere on Gwulo.com this week:
References:
YMCA, TST (First generation): http://gwulo.com/node/5595
The Peninsula: http://gwulo.com/node/2476
Construction date for Airlie House: http://gwulo.com/node/7439#comment-16018
Reference: A280G
Comments
Submitted by on
Submitted by on
Submitted by on
Submitted by on
Submitted by on
Submitted by on
Submitted by on
Submitted by on
Submitted by on
Submitted by on
Submitted by on
Submitted by on
Submitted by on
Submitted by on
Submitted by on
Submitted by on
Submitted by on