Apart from the documents we looked at in the last newsletter, The National Archives (TNA) also has a great collection of old maps and plans to explore.
Kowloon West Battery
A good example of what's available is the plan of the Kowloon West Battery I knew of it because Rob had previously uploaded this section: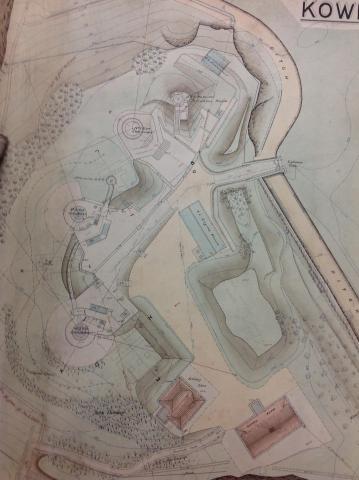 Rob also gave us its reference, WO 78/2608, so we can find it in TNA's catalogue. The catalogue description isn't very exciting, it just says 'Hong Kong'. But it does gives the date as 5 Nov 1903, and its two sub-entries give a better idea of what to expect:
Kowloon West battery, Record plan:
and site plans. Ref: WO 78/2608/1
Kowloon West battery: Plans and sections of stores,
magazines, etc. Ref: WO 78/2608/2
I placed an order to see them, and this is what I received.
The white cloth bag holds the two sheets listed above, rolled around a sturdy tube core. There's a Christmas-morning moment during the unwrapping, then we get to see what's inside.
Here's the bottom left corner of the site plan.
One of the reasons I'm interested in the Kowloon West Battery is that it is the easiest of the old British artillery batteries to visit: it's in Kowloon Park, so it's convenient to get to and free to access. (If you visit, look for the 'Discovery Playground'.)
Having the 1903 plan available on a visit lets us understand what it is we're looking at, and also shows us what has been lost. Comparing the old and the new, it's clear that the bottom part of the battery was filled in at some point, burying the Artillery Store and Guard Room under today's 'Viewing Cone'.
Though they were most likely demolished before being buried, we can still see what the buried buildings looked like from the second sheet. Here it is rolled out, with weighted bags placed around the edges to keep it flat.
It is a collection of neat sketches of the individual buildings, e.g. we can get a close-up view of the Artillery Store, which we find also had stores for oil and tackle, as well as a blacksmith's shop with a forge.
Looking back to the site plan, did you notice the blue octagon at far right?
It's another example of the octagonal iron water tanks we've noted at several other British Army sites, and probably very similar to the one still standing on the Hong Kong University campus.
One last point of note from the site plan is this Pythonesque label ...
---
The Military Sanitarium at the Peak
If you've been to Mansfield Road at the Peak, you'll know it runs across a piece of flat land on top of a spur. The original building on that plateau was a Sanitarium for British soldiers. James had previously found this map of the Sanitarium and shared it with us.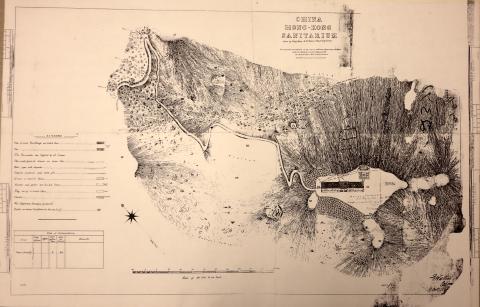 Like Rob, he was careful to quote the TNA reference, so other researchers could find the original copy:
Hong Kong. Sketch map showing the sanatorium. Reference
tables to accommodation,... Ref: WO 78/2371
If you click the copy above and zoom in you'll see it already shows a lot of detail, but where some of the text isn't very clear I hoped I could get a better copy on this visit.
I was able to take a close-up photo that makes the text easier to read, and a bonus discovery is that the original is in colour.
---
I also wanted to see what new maps I could find. I searched TNA's catalogue for kowloon map, and ordered three I hadn't seen before.
Depths of the harbour off Kowloon Point
Here's the full record:
3 items (accompanying a file on harbour development) extracted from CO 129/540/7 . 3...
Reference:    MPG 1/1201
Description:    3 items (accompanying a file on harbour development) extracted from CO 129/540/7. 3 copies of a map of the port of Hong Kong showing depths off Kowloon Point and the area dredged 1927-1928. Scales: 1 inch to 500 feet. Compass indicators. Produced by the Port Development Sub-Department, Public Works Department, Hong Kong 12 April 1932.
This was a smaller, paper map, so it arrived flat rather than rolled up:
The harbour depths don't have any great interest to me, but hopefully another reader will look at this and spot something interesting, or find something useful for their own research. And though it was printed with a focus on the harbour it still shows a part of Kowloon, and that may also be of use. e.g. I can see it shows the railway line to the Kowloon Wharves that we've been looking at over the years.
---
The next catalogue entry promised three maps:
3 items extracted from CO 129/488 . Detailed descriptions
are given at item level. Ref: MR 1/787
1925 Proposed site for a hospital in Kowloon City
It's another rolled collection. The first map gives us a view of Kowloon City in the 1920s.
The TNA entry describes it as:
S.D. No. 1 Kowloon City': map showing streets, numbered plots, and the proposed site for the construction of a new hospital and dispensary. Scale: 1 inch to 75 feet. Compass indicator. Signed: R F [?]Jackman. Originally relating to despatch number 275 from Governor R E Stubbs to Lieutenant Colonel L C M S Amery, MP; subsequently placed in Colonial Office file number CO 34175, 1925.
1924-5 Port development plans
The other two maps on the roll show plans for major reclamations and developments around Hong Kong's harbour. Here's the section showing south Kowloon, with new wharves on both side of the peninsula, new railway lines running across the peninsula and out to Hung Hom, and new sidings where Whitfield Barracks used to be.
As far as I can tell, none of the proposed developments on this roll's three maps were ever implemented.
---
Assorted maps of Kowloon
The last item I looked at on this visit was another large roll containing an assortment of maps.
15 items (numbered 1 and 11-24) extracted from CO 129/494 . China
and Hong Kong. 15... Ref: MR 1/797
It includes another big map of Kowloon, this one from 1923.
Where the previous one looked at developments around the harbour, this is a town planning map. The section below covers the area around modern San Po Kong. In the centre of this section we can see that the reclamation which became the open space of Kai Tak airfield was originally planned to be built over.
A couple of other points I spotted:
The map shows large public squares at several of the new crossroads. (The planned streets are shown with dotted lines.) I haven't seen this design on other maps, so I wonder if it was a fashion of the time?
There was to be a new railway line here, too. Look for the red line coming in at top left, labelled 'Branch Railway'.
This is another plan that was shelved without being implemented.
The roll also includes several smaller, more detailed maps. I'll include them below, though I don't know how useful they'll be as they look to be a mix of streets that existed in 1923, and the planned developments that never took place.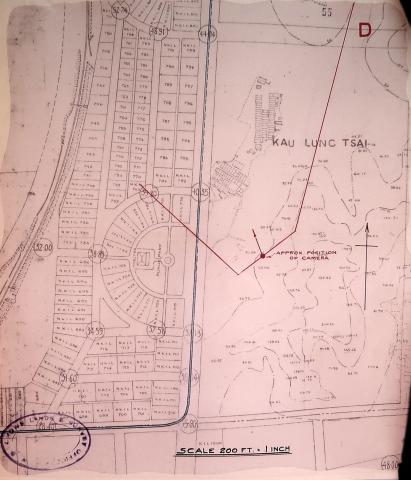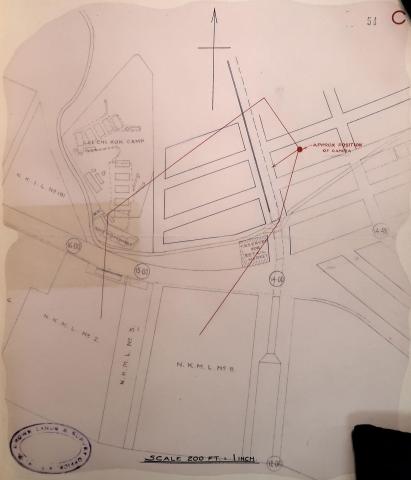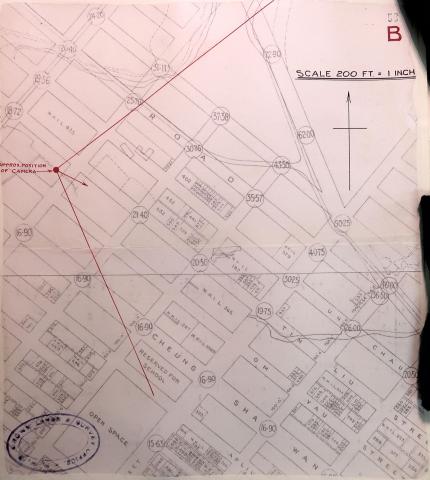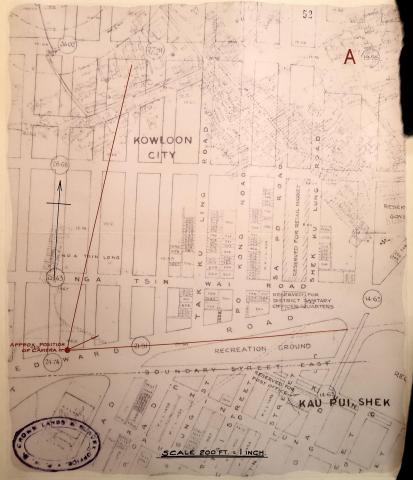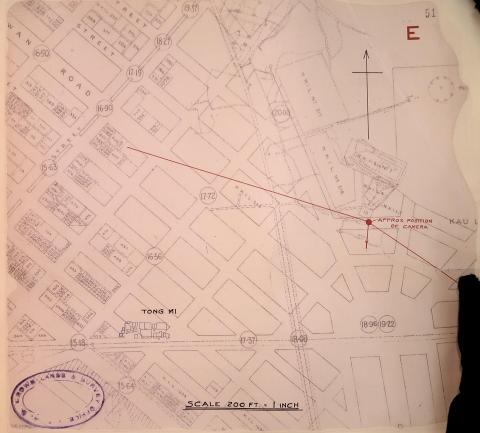 ---
And that was the end of the day at TNA. The sun was shining, so I enjoyed a walk back to my B&B at Hammersmith, walking along the banks of the Thames. I guess it was a Spring tide as the river looked higher than usual, and spilled out onto the road at places.
Comments
Submitted by on
Submitted by on
Submitted by on