Prior to the arrival of pillar letter boxes from England, wooden letter boxes were placed in suitable areas in town and suburban districts for the collection of mail by postmen. Some were also affixed to police boxes.
In 1892, it was recorded that the earliest pillar letter boxes were erected in the following localities:
Box No.     Location
1.               Kowloon, near Wharf and Godowns
2.               Magazine Gap, at the Gap
3.               Peak District, at Victoria Gap
4.               Peak District, at Mount Kellett, near 'Myrtle Bank'
5.               Peak District, Junction of Mount Gough Rd, and road to Aberdeen 
                  (West of Government Villas) 
6.               Peak District, Plantation Rd between Rural Building Lots 14 & 27
7.               Victoria, Junction of Queen's Rd East and Arsenal St
8.               Victoria, near the Harbour Master's Office
9.               Victoria, Junction of Robinson, Albany & Garden Roads
10.             Victoria, Junction of Seymour & Castle Roads
11.             Victoria, Junction of Old Bailey St and Caine Rd
12.             Victoria, Junction of Robinson and Bonham Roads
13.             Victoria, East Point, Junction of Percival St and Praya
14.             West Point. near No. 7 Police Station
My interest in old colonial postboxes stemmed from a drive I made to the New Territories in the early 1990s when I noticed an old circular George V postbox on the old Castle Peak Rd. At the time, I was not able to stop and did not have my camera with me. By the time I returned to the same spot in a few weeks time, the old postbox had been 'uprooted' and replaced with an awful modern one. Sadly, this has been a continuing trend. Here are some photos of old postboxes from the colonial era:
Queen Victoria, Junction of Robinson, Albany and Old Peak Roads (now housed in the GPO Postal Museum). This is the oldest surviving Jubilee postbox in Hong Kong. The location of this postbox is similar to Box No. 9 on the 1892 list.
Queen Victoria, Tung Tau Tsuen Rd, Kowloon City, near Nga Tsin Wai Village. This was an interesting postbox as it was one of the first boxes to be erected after the acquisition of the leased area of the New Territories in 1898. (Queen Victoria passed on in 1901). This letter box has now been removed.
Queen Victoria, formerly located in Yau Ma Tei at the junction of Waterloo Road and Portland Street. Located in the Hong Kong Museum of History.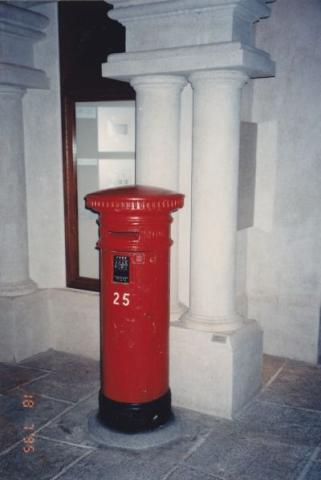 Edward VII, MacDonnell Rd. In the post-handover photo, the postman had left a parcel atop the postbox.
Edward VII, Man Mo Temple, Junction of Hollywood Rd & Ladder St See also:
George V, So Kwu Wan, Lamma Island. An interesting postbox amongst the gas cylinders. Post your mail in fear.
George V, Hollywood Road, near Pound Lane. The scene today: http://www.flickr.com/photos/old-hk/5770951411/in/photostream
George V, Junction of Wong Nei Chung Rd & Broadwood Rd. Another interesting postbox with its own pedestal. Note the George V cipher and mismatched E II R lettering below the No. 9
George V, May Rd near Peak Tram Station.  A 'grounded' George V'.
The same postbox in 1930 and 1948.
http://www.gettyimages.com/detail/50773834/Time-Life-Pictures
George V, Kowloon Hospital. Note the air-con water duct.
George VI, Fat Kwong St. One of the hardest postboxes to locate as not many of these were erected. Note the fine 'line' between a George V and George VI.
George V Cipher on a Pillar Postbox outside Shek Wu Hui Post Office.
George VI, Junction of Cumberland Rd & Rutland Quadrant, Kowloon Tong
Close to the same site today, this is the modern replacement with a certain lack of character!
Queen Elizabeth II Collection with unusual features and different scenes.
Prince Edward Road East, near Nga Tsin Long Road Kowloon City. I believe this postbox got damaged in the early 1990s during a jewellery heist when shots were fired in the direction of the postbox. A metallic plate was added to cover the bullet holes.
Upper Peak Tram Station, Peak Rd, outside Peak Cafe (Then and Now)
1940s Upper Peak Tram Station. Note the postbox on the right and its similar location to Box No. 3 on the 1892 list. The original postbox with the VR cipher can seen clearly in the Harrison Forman Collection. 
1909 Similar Scene
1892 See: http://gwulo.com/node/5136
Double Slotted Scottish Crown Postbox, Chater Rd, Pre & Post Handover Colours
Queen's Rd Central,  Melbourne Plaza and Former Queen's Theatre - Red taxi on postbox
Standard Lampost Letter Box formerly located at Tai Hang Village entrance, Tai Po. Now housed in the Postal Museum.
On this website: http://cvphm.org.uk/ForeignBoxes.html
a seldom seen George V postbox with a unique cipher that is on loan from the Hong Kong Post to the Colne Valley Postal History Museum. The postbox used to stand outside the Shek Wu Hui Post Office.
Another favourite of mine from 1949 appears in the Magnum Collection:
http://www.magnumphotos.com/Archive/C.aspx?VP3=ViewBox_VPage&VBID=2K1HZ…
Enter: Hong Kong Postbox in search
1930s Lyndhurst Terrace and Wellington St (Oval Postbox)
1970s Same Oval Postbox as above but viewed from the junction of Wellington Street and Pottinger Street
1930s Queen's Rd Central and Wellington St (Oval Postbox)
1930s Shaukiwan Road (Wall Postbox)
1919 Peace Celebrations - Queen's Road Central and Garden Road (Oval Postbox)
1940s Queen's Road Central and Garden Road (Oval Postbox)
1930s Kowloon City
Solitary oval postbox looking across Kai Tak Airfield towards Kowloon Peak, Customs Pass and Old Clearwater Bay Rd.                     
Submitted by on
Submitted by on
Submitted by on
Submitted by on
Submitted by on
Submitted by on
Submitted by on
Submitted by on
Submitted by on
Submitted by on
Submitted by on
Submitted by on
Submitted by on
Submitted by on
Submitted by on
Submitted by on
Submitted by on
Submitted by on
Submitted by on
Submitted by on
Submitted by on
Submitted by on
Submitted by on
Submitted by on
Submitted by on
Submitted by on
Submitted by on
Submitted by on
Submitted by on
Submitted by on
Submitted by on
Submitted by on
Submitted by on
Submitted by on
Submitted by on
Submitted by on
Submitted by on
Submitted by on
Submitted by on
Submitted by on
Submitted by on