Hello Forum!
This is Thomas from Germany. Since more than 15 years I am part of the James Bond location hunter community "On the tracks of 007". We visit the locations from the James Bond films worldwide and also research for new and still unknown locations.
There are some scenes from the 1974 James Bond film "The Man with the Golden Gun", where the filming location is still unknown. The plot takes place in Macau and we see Bond passing the famous Floating Casino. But after that we see a market scene, please see picture. There are rumours this is Tai Po Market, Fu Shin Street, New Territories. I searched a lot for pictures or information, but could not find anything which helps.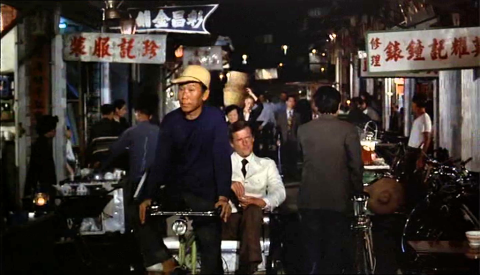 Can you identify the scene? Is it Tai Po Market?
What do the signs with the Chinese characters say? And what is the facing of the scene, North or South?
Thanks a lot for your help!
Kind regards, Thomas
Submitted by on
Submitted by on
Submitted by on
Submitted by on
Submitted by on
Submitted by on
Submitted by on
Submitted by on
Submitted by on
Submitted by on