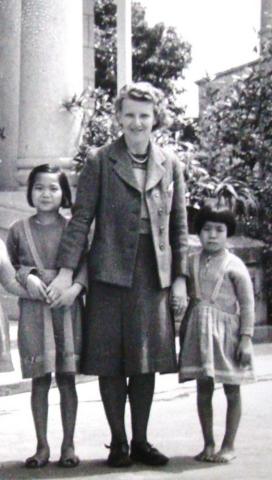 Lucy Clay was a registered nurse and missionary who arrived from England to join the work at Fanling Babies' Home in November 1948.  When Mildred Dibden left in 1950 she took over as Superintendent of the Home.  Known as Aunty Kay to the children, this is the account of her arrival.  It gives us a real glimpse into the Home all those years ago -
November 22nd - Mr and Mrs Braga invited us for lunch in town, and we caught the 4.15 train for Fanling. On the platform at Fanling the children were lined up to greet Aunty Kay. I looked at Lucy - the sight of so many eager little faces seemed to take her breath away!  At a word from the teacher there was a great shout, which, I think, must have been heard all over Fanling!
"Welcome to our Aunty Kay!" There was a rush, they surrounded her. 
"Aunty Kay!" - "Aunty Kay!"
Everyone on the train seemed to have their heads out of the windows. The people on the platform stood smiling - interested in the noise and excitement. The Station Master, a bit nonplussed by such a crowd of small children, watched anxiously to see that no one fell off the platform in the enthusiasm! Then we made our way along the country road to the house, the children running and skipping around us, asking endless questions about Aunty Kay, the big boat and England, and why it was that Aunty Kay had come from such a long way to live with us - with only one small case for her luggage!
At the house the staff welcomed us, and we took Aunty Kay at once to see the baby sisters. There were the "Tiny wee ones" in their pink tray cots, next were the  'Rollies' - ages 6 months to 1 year, then the 'Crawlers' - ages 1 year to 2 years, and the 'Toddlers' - ages 2 to 3 years. After we had made the round, there was the Welcome feast for the family, pork and chicken and other good things to eat!  And of course at Evening Prayers that night we sang a special hymn of thanksgiving. 
The Bragas were a prominent family in Hong Kong, of Portuguese origin. Hugh and Norah Braga were active supporters of the Fanling work. Hugh Braga was an engineer and General Works Manager HK. Norah Braga was a BCMS missionary. 
Source:  The Fanling Babies' Home Brochure.