Where: I bought this photo back in 2020 and scanned it straight away so I could take a closer look. There are signs at the top and bottom of the nearest windows showing the street name. The one at the bottom is clearer, and shows we're looking at Caine Road.
I put the picture aside, thinking that at some point I'd go for a walk along Caine Road to see if I could find a viewpoint that matched this scene, and work out the photo's location. Instead, I had a lucky break when a photo of the same buildings popped up as one of Gwulo's Random Photos.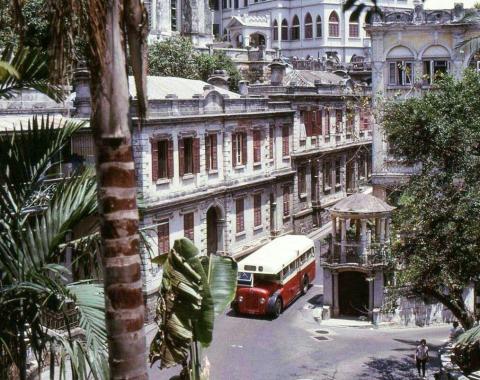 So the older photo shows the start of Caine Road, with Arbuthnot Road leading downhill to the right.
If you recognise the buildings, please can you leave a comment below to tell us what they were called, and what they were used for?
As far as we know they were demolished in the late 1960s or early 1970s. The buildings on this site today belong to the Roman Catholic Church, and its likely that those older buildings belonged to them too.
 
When: I don't see any obvious clues, but the photo shown below came from the same album and has clues aplenty. We dated it to 1904, which should be roughly when the Caine Road photo was taken.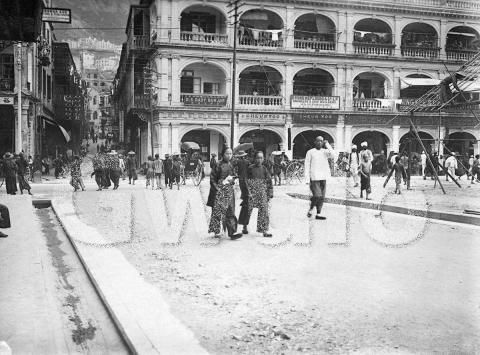 What: The sedan chairs are the regular style, not the lightweight chairs used for heading up mountains. The most likely journey would be a ride to or from Central, though a visit to Robinson Road or to somewhere further along Caine Road are other possibilities.
Who: As well as the four men shown above, there are four more people in the crop below. From the left, there's another chair carrier, a man with a straw boater, the second chair carrier with his back to us, and a lady in a skirt. They look to be in conversation, maybe sorting out the payment if they've just arrived, or agreeing the route and rate if they are just setting off. (And as there are three chairs there should be a third passenger - probably the person who is taking the photo.)
---
Gwulo photo ID: A548
 
Further reading:
The Roman Catholic Cathedral is immediately behind the buildings in this photo. It's an impressive building that is well worth a visit - many people don't know it is there, as it has been surrounded by high-rise buildings that hide it from view.
 
Lots more photos of sedan chairs
Comments
Submitted by on
Submitted by on
Submitted by on
Submitted by on