Hi all,
My grandfather did his military service in Hong Kong, 1948-49, and although sadly he was not able to return to visit before he passed, he always told us stories of the place and his times here.
I inherrited his photo album of these two years, and have uploaded the photos below. These are scans of each page, if people are interested I can upload higher resolution scans of each individual photo.
I only realized recently that the photos of drills in October 1949 would have been the British army preparing for potential invasion by the PLA. He was stationed on the hills overlooking the border in mid October when the KMT withdrew and the Communist army took their place over the border.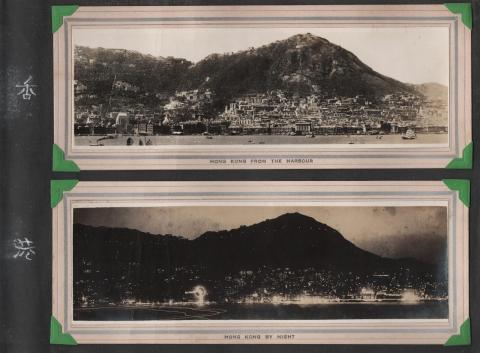 [scald=38763:sdl_editor_representation {"link":"http:/atom/38763"}]
[scald=38764:sdl_editor_representation {"link":"http:/atom/38764"}]
[scald=38765:sdl_editor_representation {"link":"http:/atom/38765"}]
[scald=38766:sdl_editor_representation {"link":"http:/atom/38766"}]
[scald=38767:sdl_editor_representation {"link":"http:/atom/38767"}]
[scald=38768:sdl_editor_representation {"link":"http:/atom/38768"}]
[scald=38769:sdl_editor_representation {"link":"http:/atom/38769"}]
[scald=38770:sdl_editor_representation {"link":"http:/atom/38770"}]
[scald=38771:sdl_editor_representation {"link":"http:/atom/38771"}]
[scald=38772:sdl_editor_representation {"link":"http:/atom/38772"}]
[scald=38773:sdl_editor_representation {"link":"http:/atom/38773"}]
[scald=38774:sdl_editor_representation {"link":"http:/atom/38774"}]
[scald=38775:sdl_editor_representation {"link":"http:/atom/38775"}]
[scald=38776:sdl_editor_representation {"link":"http:/atom/38776"}]
[scald=38777:sdl_editor_representation {"link":"http:/atom/38777"}]
[scald=38778:sdl_editor_representation {"link":"http:/atom/38778"}]
[scald=38779:sdl_editor_representation {"link":"http:/atom/38779"}]
[scald=38780:sdl_editor_representation {"link":"http:/atom/38780"}]
[scald=38781:sdl_editor_representation {"link":"http:/atom/38781"}]
[scald=38782:sdl_editor_representation {"link":"http:/atom/38782"}]
[scald=38783:sdl_editor_representation {"link":"http:/atom/38783"}]
[scald=38784:sdl_editor_representation {"link":"http:/atom/38784"}]
[scald=38785:sdl_editor_representation {"link":"http:/atom/38785"}]
[scald=38786:sdl_editor_representation {"link":"http:/atom/38786"}]
[scald=38787:sdl_editor_representation {"link":"http:/atom/38787"}]
[scald=38788:sdl_editor_representation {"link":"http:/atom/38788"}]
[scald=38789:sdl_editor_representation {"link":"http:/atom/38789"}]
[scald=38790:sdl_editor_representation {"link":"http:/atom/38790"}]
[scald=38791:sdl_editor_representation {"link":"http:/atom/38791"}]
[scald=38792:sdl_editor_representation {"link":"http:/atom/38792"}]
[scald=38793:sdl_editor_representation {"link":"http:/atom/38793"}]
[scald=38794:sdl_editor_representation {"link":"http:/atom/38794"}]
[scald=38761:sdl_editor_representation {"link":"http:/atom/38761"}]
Submitted by on
Submitted by on
Submitted by on
Submitted by on
Submitted by on
Submitted by on
Submitted by on
Submitted by on
Submitted by on
Submitted by on
Submitted by on
Submitted by on
Submitted by on
Submitted by on
Submitted by on