Martin Booth mentions this range a couple of times, as part of his walk along Harlech Road:
[...] passing a waterfall, and arriving at the place where the soldiers lay down to shoot across a valley at the butts.
I'm not 100% sure where the shooting platform was, but I'll guess it's here for a couple of reasons:
The road round the Peak is narrow, except for this area where it becomes much wider. It has several exercise stations on it now, but maybe this flat area was where the soldiers "lay down to shoot"?
If you look at the wall in the butts area (visible in the satellite view, draw a line through the center of the wall at right angles to it, and project it back, it hits the road around here.
James has since found this map that shows there were several shooting platforms, slightly below the level of the road. There is more information in the comments below.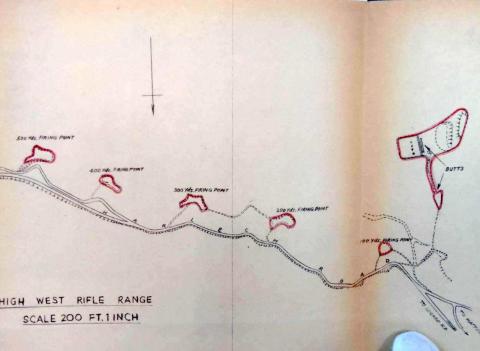 Comments
Submitted by on
Submitted by on
Submitted by on
Submitted by on
Submitted by on
Submitted by on
Submitted by on
Submitted by on
Submitted by on
Submitted by on
Submitted by on
Submitted by on
Submitted by on
Submitted by on
Submitted by on
Submitted by on
Submitted by on
Submitted by on
Submitted by on
Submitted by on
Submitted by on
Submitted by on
Submitted by on
Submitted by on
Submitted by on
Submitted by on
Submitted by on
Submitted by on
Submitted by on
Submitted by on
Submitted by on
Submitted by on
Submitted by on
Submitted by on
Submitted by on
Submitted by on
Submitted by on
Submitted by on
Submitted by on
Submitted by on
Submitted by on