I hope you'll join me for two of my favourite things: a walk in the countryside, and a chance to learn something new about Hong Kong's history.
This ancient trail is reckoned to be one of the oldest man-made structures still surviving in Hong Kong. There isn't a firm date for when it was built, but it is estimated to be several hundred years old. It was certainly already around when the British leased the New Territories, as it appears on their first survey maps of the area.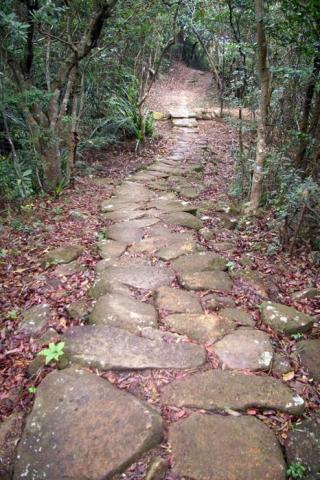 Long before any railways or highways, these boulder trackways carried people and trade between the main towns and villages. The one we'll follow originally connected Tai Wai with Sai Kung.
The trackways were built using local boulders laid closely together, without any cement or concrete. The lower stages of the trackway have already disappeared, but the upper sections we'll walk along are still in good condition.
The walk will be led by Guy Shirra, who has been researching Hong Kong's boulder trackways for several years.
I attach details of the walk from Guy below my signature. If you can join us, please send me a short email to let me know your mobile phone number, and how many people are coming along:

We'll end up in Sai Kung around 2pm. I'll have a late lunch there with Guy, and you're very welcome to join us.
See you on the 29th,
Regards,
David
---
Gwulo / Friends of Sai Kung Ancient Trail Walk on 29 November 2014
Guy Shirra, Operations Officer of the Friends of Sai Kung (FSK), will lead a walk over one of Hong Kong's finest ancient Chinese boulder trackways.
The walk should take approximately 2 1/2 hours and will end at the Tin Hau Temple in Sai Kung.
Come prepared with the usual gear for a walk in the Hong Kong countryside: Good shoes, water, sun protection and a change of clothes suggested.
Date: Saturday, 29 November 2014
Time: Meet at 11:15 to leave promptly at 11:30am
Start Location: Wong Nai Tau Bus Terminus, Siu Lek Yuen Road, Grid Ref: 135 777
Access to Start: Bus 89D from Lam Tin MTR or Taxi from City One or Shek Mun MTR
Cost: The walk is free but donations to FSK would be gratefully received - or you can buy an FSK 2015 Calendar for $120 :-) Lunch will be self-pay.
Links:
Comments
Submitted by on
Submitted by on
Submitted by on