Text on Flickr: Scanned from "Post Impressions", 2004, South China Morning Post Publishing Ltd, Hong Kong.
Info from "The Prince of Wales Eastern Book"
(https://ia902605.us.archive.org/23/items/princeofwaleseas00philrich/pri…)
Fog lay thick over Hong-Kong when the Renown arrived off the harbour on the morning of April 6, and for the first time during the tour the Prince's arrival was delayed. The mist lifted within an hour, and the battle cruiser passed to her anchorage amid the hooting of syrens, the explosion of thousands of firecrackers, and the salutes of British and foreign warships, including a Japanese squadron of light cruisers sent to act as escort on the voyage to Yokohama. British bluejackets lined the route from Blake's pier to a reception hall erected especially for the visit, and the Prince accomplished this short journey in a palanquin carried by eight Chinese bearers in white and scarlet costumes, his staff following on foot.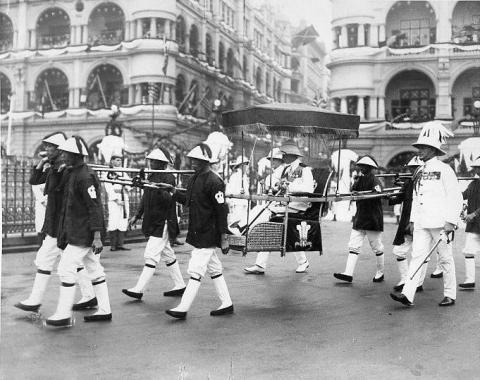 Date picture taken
6 Apr 1922