Who: These formal photos of groups of soldiers usually help us out by having a sign explaining who they are.
So we're looking at the Junior Non-Commissioned Officers from the 88th Company of the Royal Garrison Artillery.
The Royal Garrison Artillery (RGA) was the part of the British Army responsible for manning the coastal defence batteries around the British Empire. These gun batteries defended harbours from attack by enemy ships.
There were three RGA Companies here in Hong Kong, the 83rd and 87th, and the 88th who are shown here. Hong Kong was also the headquarters for the Hong Kong-Singapore Battalion RGA, which was made up of Indian soldiers. I think these two gentlemen in the 88th Company photo are Indian, suggesting there was some exchange of men between the two groups.
The main photo doesn't show the whole company, just its Junior Non-Commissioned Officers. In most of the army they'd be the lance corporals and corporals, but in the Royal Artillery they're known as lance bombardiers and bombardiers. They wear chevron-shaped stripes on their upper arms to show their ranks, so we'll expect to see all the men with either one stripe (see B below, a lance bombardier) or two (see A below, a bombardier).
There are a couple of exceptions. The senior man in the group usually gets to sit front & centre. In this photo it's the man marked D, who doesn't have any stripes on his upper sleeves.
Instead I've highlighted the crown badges on his forearms, which I think mean he was the Company Sergeant Major.
The other exception is the company's pet dog at top right! He was unable to keep still for the camera and so is looking a bit blurred
When:The sign already gives us an idea of when the photo was taken, but a note on the back pins down the exact date to 8 January 1919.
That means the photo was taken less than two months after 11 November 1918, the day the fighting in World War One had stopped. During the war, the artillery's large guns and howitzers were kept behind the infantry's lines for relative safety, which meant they had to fire over longer distances towards targets that were out of sight. The technical skills of the RGA were in great demand to cope with this.
I wonder how many of these men had spent time along the Western Front, and whether a posting to Hong Kong was used to give men a chance to rest and recover?
Where: We can make out the arches of the building in the background, but that was a common feature of the barracks around Hong Kong. Does anyone spot any features that identify the building, or know where the 88th were based?
What: Enough badges to keep a cub scout happy! 
We've already noted the downward-pointing chevrons on the upper arms denoting rank. Some of the men also have a chevron on their lower left arm that points up.
These were 'good conduct stripes', where the first stripe was awarded to privates and lance corporals / lance bombardiers after 2 years service without being formally disciplined. You could keep adding stripes - the next was after 6 years - but no-one here has more than one. Either they were still relatively new to the RGA, or they were a mischievous bunch!
Over on their lower right arms, many men have a set of smaller chevrons, also pointing upwards.
These recorded the number of years the soldier had served overseas (ie outside the UK). Not that overseas postings were guaranteed, as the RGA also manned gun batteries around Britain's coast. So if I'd joined up with dreams of seeing the world, I could still have ended up with the 44th or 57th Companies defending the Milford Haven waterway, and within walking distance of home!
The overseas service chevrons were in two different colours, with a single red chevron if you were overseas before the end of 1914, then from 1915 onwards you added one blue chevron for every year you were outside the UK. Looking at the men above, I think A has one red + three blue, B has three blue, and C has one red + four blue.
You'll notice that B also has a circular badge on his upper right arm, above his lance bombardier's stripe. It's a capital letter 'R' above a wreath, and signifies this man was a qualified rangefinder. The badge that F is wearing is clearer to see.
The badge on R's right arm is a similar design, but with a capital 'L' this time. That shows his proficiency is gun laying.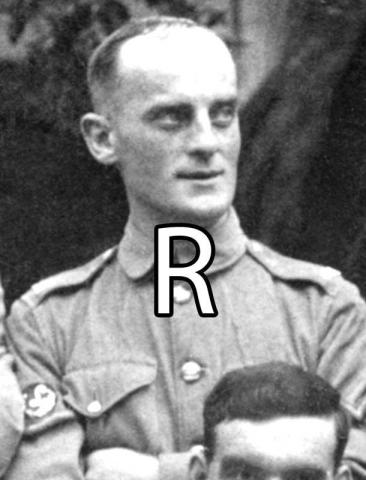 Here's one on the upper left arm, a cross that I believe means he has some medical skills - can anyone confirm?
This man wears a badge showing crossed flags on his lower left arm, showing he's a signaller. Although morse and telephones were already in use, he still had to learn to how use flags to send messages by semaphore.
Finally, looking back to A and C again, they're wearing medal ribbons above their left breast pockets. Is it possible to identify the medals without knowing what colour the ribbons are?
---
I'm no expert on military history, so please leave a comment below if you spot any mistakes or can tell us more about this scene.
Gwulo photo ID: A555
Further reading / exploring: If you've got Volume 3 of my books, pages 74-79 have more photos and stories about Hong Kong's coastal defence batteries and the soldiers that manned them. (And if you haven't got the book, here's how to order a copy!)
Ruins of many of Hong Kong's old coastal defence batteries still exist, and make for an interesting outing to explore. At the time of writing, Hong Kong's Museum of Coastal Defence is closed for a revamp, but there are other batteries whose ruins are publicly accessible - check out Rob's maps to see what's out there.
More resources:
Comments
Submitted by on
Submitted by on
Submitted by on
Submitted by on
Submitted by on
Submitted by on
Submitted by on
Submitted by on
Submitted by on
Submitted by on
Submitted by on
Submitted by on
Submitted by on
Submitted by on
Submitted by on
Submitted by on
Submitted by on
Submitted by on
Submitted by on
Submitted by on
Submitted by on