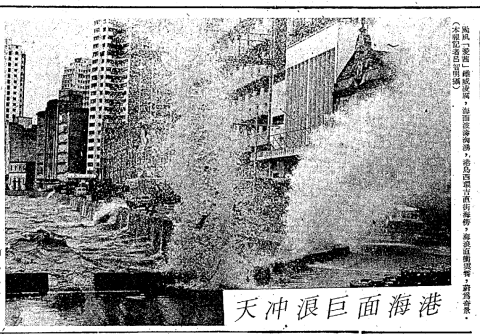 Typhoon Elsie was one of the most intense typhoons that have affected Hong Kong in October. It was also the first occasion that required the hoisting of the Hurricane Signal, No. 10, since Typhoon Rose in August 1971. Although there were storm to hurricane force winds during the passage of Elsie, relatively minor damage was experienced.
At 11.00 a.m. on October 14, the Increasing Gale or Storm Signal, No. 9, was hoisted to warn a significant increase in wind speed over Hong Kong when Elsie was centred only about 40 miles to the southeast. No. 10, was hoisted at 2.15 p.m..  It crossed the south China coast about 60 miles west-southwest of Hong Kong shortly after 10 p.m. on the same day.
https://www.hko.gov.hk/en/informtc/no10/elsie/report.htm
Above picture shows huge waves pounding Kennedy town praya.