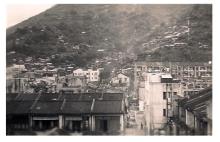 Current condition
Demolished / No longer exists
(Day, Month, & Year are approximate.)
(Day & Month are approximate.)
INTRO: As Tiger Balm Garden was a favourite tourist destination, we have many photos showing the squatter village. The village is also mentioned several times in Dam at Haw Par Stream [????- ]  and other posts.
At the end of the 1940s and early 1950s, a sudden influx of people from mainland China led to severe housing problems. As a result, squatter camps were built wherever space was available. Due to the topography of Hong Kong, they had to be built mainly on (steep) slopes of the hills.
One of these was the squatter village next to Tiger Balm Garden, also referred to as "Tai Hang old village". It started likely around 1950, it can be seen on some photos from the early 1950s. The village grew more and more and covered almost all available area next (north-east) to Tiger Balm Garden.
香港記憶 | Hong Kong Memory (hkmemory.hk) reports a big fire in 1966 that destroyed the whole village, but it was rebuilt shortly afterwards.
Recently Louis Wong posted the following:
The ruins of the squatters is the former 'Tai Hang old village'. It was finally demolished in around October 1995, all residents were separately relocated to Kai Yip Estate, Wah Fu Estate, Yiu Tung Estate, etc.
The "lifetime" of this squatter village was estimated from 1950 (could be earlier) to 1995. The outline of the village is also an estimation based on maps from hkmaps.hk of the 1960s/70s. On these maps, the areas are labelled "Temporary structures"; theses areas seem to exclude the vicinity of Haw Par Stream.