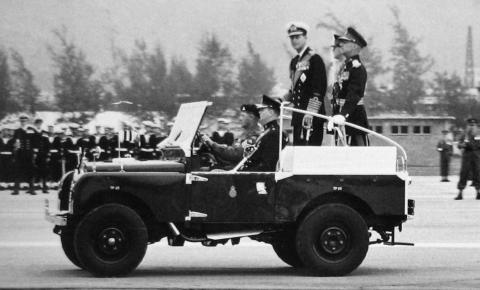 In March 1959, the Duke of Edinburgh came to Hong Kong on a two-day visit, arriving from Singapore on the Royal Yacht Britannia, escorted by both Britain's Royal Navy and the Royal New Zealand Navy.
On this visit to the then colony, Prince Philip laid the foundation stone at the Queen Elizabeth Hospital in Kowloon. That same day he also attended a garden party at Government House, the residence of the then Hong Kong Governor Sir Robert Black. Later, in the evening, he attended a Chinese dinner, about which he later remarked that he had "particularly enjoyed renewing my rather limited acquaintance with Chinese food".
On March 8, 1959, the Post reported that the duke had boarded a helicopter with the governor at Kai Tak Airport to view the city from the air. On his way to Kai Tak, he sat in an open-top car that drove down Nathan Road where crowds stood lining the street to wave and get a glimpse of the prince.
Source: SCMP 7 April 2021
British Pathé movie here
Comments
Submitted by on
Submitted by on