Current condition
Unknown
Pool in Lai Chi Kok – is it still there?
I am searching for information about the swimming pool in Lai Chi Kok where I swam in 1955 -1956. It was on a property next to Castle Peak Road now part of Greenwood Villas and address as 1 Chung Shan Terrace. Any information on the history of the pool, the building next to it and their current status would be much appreciated.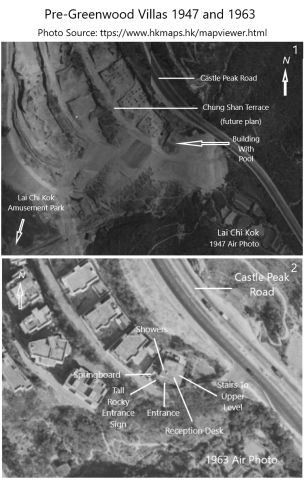 Each trip to the pool started with a walk from the rear of the Lai Chi Kok Amusement Park. In
my first visit, there were still some vacant lots. I remember some details about the place. I also remember standing on a dirt road outside the property, and watched a car rounding a dirt road curve towards (noted later) Castle Peak Road.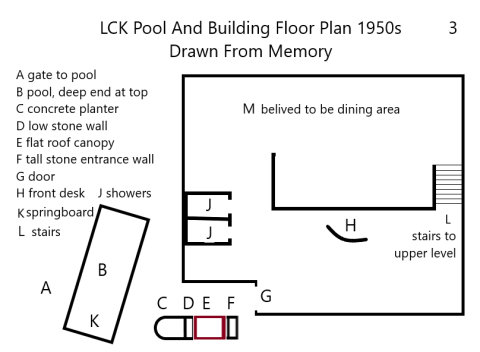 At the west side entrance, a man sat on a chair and collected money from the pool users. The cost was about 60 cents which was slightly more than that at the amusement park.
Between the pool and the building, there was a short walkway. By the walkway was a tall stone entrance sign. Once inside the building, the showers were about a dozen steps to the left, a worker at the reception desk and stairs behind him to the upper level. Later, I learned that the place was operated by a staff from the amusement park possibly as a guest house or hotel. The number of rooms could not have been large given the size of the building. It was nice of him to open the pool to the public.
[Insert photo 4 (springboard girl) and photo 5 (current air photo) here]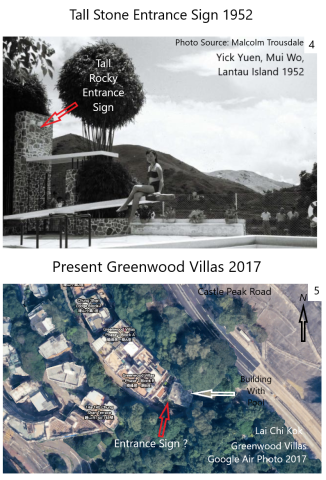 Recently, I saw a photo showing a pool and a tall stone entrance sign similar to the one I remember at Lai Chi Kok. I mistook it was at Lai Chi Kok. After some discussions and research, contributors at Gwuo (philk, Fivestars, and others) identified its location in Yick Yuen, Lantau Island.
The two signs look similar - type of stone, shape and size, flat roof canopy, and the half- circular planters at the front. Not visible is what I remember a small outdoor cooking and food serving area under the canopy.
A current Google Earth photo shows what appear to be the original pool and building. This needs further research to be confirmed. Two bits of my memory may be faulty. One is the location of the springboard which I believe was on the east (long) side. It could be a low level springboard, and the higher springboard was at the north end where the water was deep. Next, the tall entrance sign might be actually a part of the wall next to the door. A visit to the site may help clear up these uncertainties, but I understand the area is now a gated community.
Comments
Submitted by on
Submitted by on
Submitted by on
Submitted by on
Submitted by on
Submitted by on
Submitted by on
Submitted by on
Submitted by on
Submitted by on
Submitted by on
Submitted by on
Submitted by on
Submitted by on
Submitted by on
Submitted by on
Submitted by on
Submitted by on
Submitted by on
Submitted by on
Submitted by on
Submitted by on
Submitted by on
Submitted by on
Submitted by on
Submitted by on
Submitted by on
Submitted by on
Submitted by on
Submitted by on
Submitted by on
Submitted by on
Submitted by on
Submitted by on
Submitted by on
Submitted by on
Submitted by on
Submitted by on
Submitted by on
Submitted by on
Submitted by on
Submitted by on
Submitted by on
Submitted by on
Submitted by on
Submitted by on
Submitted by on