Current condition
Demolished / No longer exists
(Day is approximate.)
(Day & Month are approximate.)
From Heritage Impact Assessment of Old Tai Po Police Station, page 14 ff.
In early April 1899, the police had erected sheds from mats on Flagstaff Hill (overlooking Tai Po) to act as the temporary police station, and to provide a venue for the formal flag-raising ceremony on the 17th April. These huts were burnt down twice by opposing locals.
After the six-day war, governmental offices and quarters were needed for the administration of the New Territory. These were built near the permanent police station on the hills.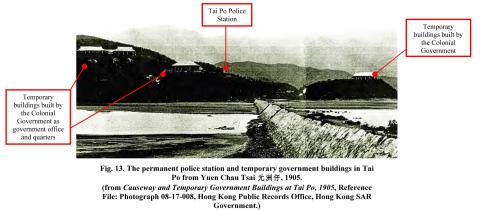 These four matshed buildings were used as offices for the European officers in charge of land matters for a couple of years. Finally, in 1906 a new and permanent quarter, known as Island House, was built for the Assistant Land Officer, followed with a new office building constructed adjacent to Tai Po Police Station in 1908.
See also here.