Introduction
It is the dawn of the 20th Century. Queen Victoria had died on  22nd. January  1901. The Governor of Hong Kong directed that on the 2nd February, the day of her funeral,  Hong Kong would observe a Day of Mourning. In response, crowds had flocked to lay wreaths at the bronze statue of Victoria, unveiled in 1896 to great pomp and pageantry. Probably many wives of Hong Kong's glitterati would have appeared at this event wearing newly-made constrictive, tight fitting up to the neck and uncomfortable dresses, ordered from Hong Kong's dressmaking shops.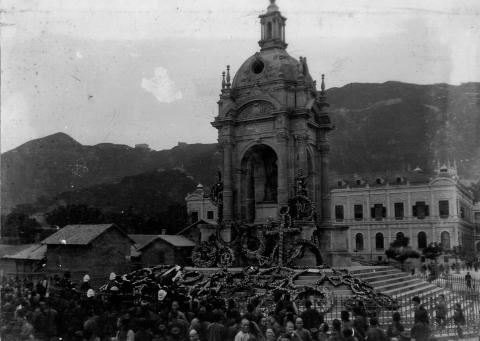 Hundreds of wreaths of flowers surround Queen Victoria's statue after her death. The bronze statue, covered by an elaborate stone dome-topped canopy, was first located in Royal Square later becoming known as today's Statue Square.  After the recovery of the bronze statue from Japan following the Second World War, it was re-erected in Victoria Park.
The Queen is dead;  Long Live the King
King Edward VII had ascended the throne. The long-lasting Victorian era thence gave way to a new decade of more liberal "Edwardianism". Gone were the strict overly-protective of modesty dress codes, totally unsuited for Hong Kong's humid sub-tropical summers with not even a fan in most instances, let alone an air-conditioner.
Edward was regarded worldwide as an arbiter of men's fashions. He made and popularised the wearing of light-weight black ties with dinner jackets, instead of white tie and tails. and was thought to have introduced the stand-up turn-down shirt collar. And for the daring ladies, necklines were lowered, exposing the shoulders, sometimes even without straps. Uplift of the  bosom and even "cleavage", as it later became known, became almost visible especially when ladies were dancing the 'Galop' at afternoon tea dances or at a late evening 'knees-ups' at the Hongkong Hotel's famous 'Gripps Bar'. Clergymen were horrified. Some, especially Catholic bishops from around the world almost fell off their diocesan thrones in indignation and organized a global petition attacking these  new-fangled  fashions. It is not known if Hong Kong's own Vicar Apostolic, Louis Piazzoli, joined in this fray but he left Hong Kong in 1904 aged only 59 years, returning to his birthplace in Italy, where he died three months later. His remains were returned to Hong Kong and reinterred in the crypt of Hong Kong Catholic Cathedral in 2014, a hundred years after his death.   
So where did the ladies and gentlemen buy their new dresses, evening attire, watches, jewellery and other accoutrements for the new Century?
Queen's Road Central appears to have still been the main shopping street for Hong Kong Island's white foreign community during the first decade of the 20th. Century. Although new multi-storey tower buildings were being thrown up in great haste along Des Voeux Road, these seemed to be occupied mainly by the very large merchant houses rather than smaller retail shops. Sensible, when you consider that Queen's Road was closer to much of the foreign and middle-income local Chinese housing up in Mid-Levels or higher up towards the Upper-Levels. The privately-owned shop-houses probably also offered more flexibility to business tenants about usage than the larger corporate-owned blocks with all their inconvenient "management rules"…. and probably with higher rentals. These shops were also conveniently near to the large Central Market on the north side of Queen's Rd between Jubilee and Queen Victoria Streets.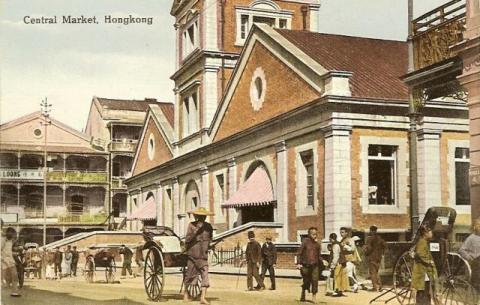 The post card above illustrates the 3rd Generation Central Market on Queen's Road ,existing between 1895 and 1937
The annual  "Directory and Chronicle for China, Japan, Corea, Indo-China etc, etc." had a designated "Hong Kong Directory"  section  listing businesses which subscribed to the publication. This was either a simple alphabetical listing, probably charged by the word ("extra for bold letters" ) or the publication of a full or half-page advertisement which could include images. 
The editions for 1903 and 1905 have revealed quite a lot of information about retail merchants including small photographs of their buildings or shop fronts along Queen's Road Central. Beneath is a list of the road's merchants who decided to have their businesses listed in the Directory, some of whom paid for large advertisements:-
Portion of a Map of Victoria published in the Hong Kong Directory in 1905. Queen's Road Central is highlighted and indicates the building numbers of listed shops in red numerals. The black numerals are land grant plot references. 
QUEEN'S ROAD CENTRAL – SHOPS , STORES & HOTELS ETC.

(Listed in the Hong Kong Directory for 1903 & 1905)

Building No.

                                                    Merchant's Name

4

Victoria Hairdressing Saloon & Variety store

6

Girault, G. ,Wines & Spirits

8

Cheong Lee & Co., Furniture Store

(8 ? )

Robinson Piano Co.(Corner of Queen's Rd & Duddell St)  

8A

Mumeya, M.  Japanese Photographer & Artist

9

New Victoria Hotel

12

Price &. Co., H., Wine, Spirit, Ale and Stout Merchants

13

Connaught House Hotel ( later renamed the Astor Hotel)

(within hotel)

Kruse & Co. Cigars & Tobacconists

14

Droz & Co., Watchmakers

14

Fletcher & Co., The Pharmacy - Chemists, Druggists, Patent Medicines
 Full page advertisement from 1903 for G Girault purveyor of Wine, Spirit & General provisions locate at 6 Queen's Road Central. 
 Double page advertisement of 1903 by Japanese photographer and artist M. Mumeya with premises at 8A, Queen's Road.
During the 1920's this business had become a partnership known as Mumeya and Sano (the latter was his former assistant) and had migrated to other premises on Queen's Road closer to D'Aguilar St., opposite the old Supreme Court building. ( see Gwulo Photo:  ' 1920s Queen's Road Central ' )
Full page advertisement from the Hong Kong Directory (1903)  for H. Price purveyor of Wines, Spirits & Ale , located at 12, Queen's Road Central.  The shop front is illustrated in a small photo.
 Two- page advertisement of 1903 for the Connaught House Hotel at 13 Queen's Road Central. Shortly after this the hotel was renamed the Astor Hotel and later other names . There is further information about this here :  https://gwulo.com/astor-house
Full page advertisement from the Hong Kong Directory (1905) for Kruse & Co.  purveyor of Cigars ,Tobacco products and also bicycles, located within the Connaught House  Hotel  13 Queen's Road . There is small picture of the shop frontage.
| | |
| --- | --- |
| Building No. |                                                     Merchant's Name |
| 15 - 27 | Hongkong Hotel (Ground floor shops) |
| (15A) | Caldbeck, MacGregor & Co. Wine Sprits and Beer Merchants |
| (within hotel) | Kuhn & Komor, .Japanese, Chinese, and  Indian Curiosities |
| (within hotel) | Campbell, Moore & Co., Hairdressers, Perfumers, Wigmakers, Tobacco |
| (within hotel) | Brewer & Co. Bookseller, Stationers, Printers, Newsagents, etc. |
| hotel corridor | Graca & Co. Post Cards  & dealers in foreign and colonial postage stamps |
| 16 | Houghton, R., Tailor |
| 17 | Blunck Fr. Torchon Lace manufacturer and Embroidery |
| 17A | A Chee & Co., Furniture and Photographic Goods Dealers |
| 22 | Fairall & Co.,  Milliners and Dressmakers |
| 22-24 | Victoria Dispensary - Dakin, Cruickshank & Co. Chemists and Druggists |
| 28 | Powell, Wm. (Gentlemen's Outfitting Department) |
| (30 ?) | Cosmopolitan House Hotel  (Old Club Building) |
| 34 | Powell, Wm. ( Dressmakers, Drapers& Furnishers) |
| 34 | Ah Men & Hing Cheong Co., Tailors, Drapers and Outfitters   |
| 35 | Wing Cheong Co., Jewellers & Curio Merchants |
 Full page advertisement from the Hong Kong Directory (1905)  for Kuhn & Komur selling Asian curiosities also located within the Hongkong Hotel premises.
 Full page advertisement for Graca & Co. Dealer in Pictorial Post Cards & foreign and colonial postage stamps. This stall was located in the corridor of the Hongkong Hotel.. By 1909 the company had moved its main shop to 27 Des Voeux Road . Graca also published a series of post cards with views of  Hong Kong.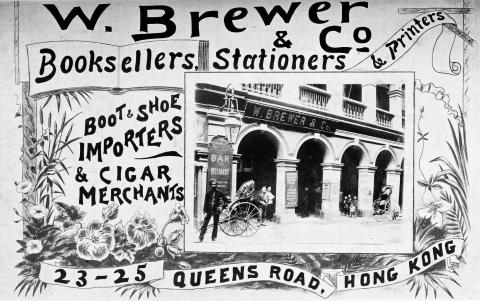 Full page advertisement from the Hong Kong Directory (1903)  for W. Brewer  Booksellers & Stationers as well as importers of boots, shoes and cigars . Located in the large Hongkong Hotel block.
 Full page advertisement from the Hong Kong Directory (1903 ) for  Frederick Blunck : Torchon Lace & Silk manufacturer and Embroidery. Located at 17, Queen's Road.
Half page  page advertisements from the Hong Kong Directory (1905) for A Chee & Co ( Furniture) and Long Hing ( Photo Supplies),  both sharing premises at 17A, Queen's Road Central. 
 Advertisement for the Victoria Dispensary ( the Trade name of  Dakin, Cruickshank & Co.,. Chemists and Druggists ) located at 22 -24 Queen's Road.
Full page advertisement from 1905 for  William Powell Limited , drapers, milliners, dress makers, gentlemen's wear & furnishers located at 28, Queen's Road Central.
Full-page advertisement for  Wing Cheong Co., Jewellers & Curio Merchants, located at 35 Queen;s Road Central. The shop front is shown in a small photo.
| | |
| --- | --- |
| Building No. |                                                     Merchant's Name |
| 40 | Levy Hermanos - Sennet Freres, Successors, Jewellers, &c. |
| 43 | Victoria Cycle Emporium – McKirdy & Co. |
| 48 | Falconer G. Watch and Chronometer Makers, Jewellers., |
| 62 | Chuen Cheong & Co. , Furniture Store |
| 68 | Ling & Co. Furniture and Foochow Lacquered Ware Dealers |
| 142 | Stag Hotel |
| 242 - 244 | Central Hotel |
| 266 - 268 | German Tavern |
| 304 - 306 | Rose, Shamrock & Thistle Hotel |
| 318 - 320 | International Hotel |
| 332 - 334 | 'Land We Live In' Hotel |
| Nr Zetland St. | Kelly & Walsh, Publishers, Printers, Bookbinders, Booksellers, Stationers |
| uncertain | Lane Crawford ( one branch listed as in Queen's Rd) |
| unknown | Watson & Co , Head Office & dispensary listed as Queen's Road* |
 Company listing & full-page advertisement from the 1903 Hongkong Directory for the prestigious department store, Lane Crawford  & Co.
Lane Crawford's main branch had been on the Praya and later Des Voeux Road but they also had a branch listed as in Queen's Road. This is just a couple of years before the company opened their new large flagship store at 4 Ice House Street.  
George Falconer of 48, Queen's Road became a highly-regarded maker of fine chronometers and barometers, specially designed for shipping in the Far East. He had at one time worked for Douglas Lapraik (1818-1869), a self-made successful business tycoon who had also started life in Hong Kong as an apprentice watchmaker under the tuition of fellow-Scotsman, Leonard Just. Falconer acquired the watchmaking and jewellery business and later registered the company in his own name. The jewellery company business name still exists to the present day with a shop at the Peninsula Hotel. Fine chronometers and barometers made by Falconer during the 1870's occasionally appear on the collectors' market  and fetch very high prices.
As one progressed eastward along Queen's Road, drifting beyond Central and through Sheung Wan, there were a number of cheaper hotels. The most easterly listed hotel in 'The Directory' bore the name 'Land We Live In Hotel' and one wonders quite what kind of services were perhaps "offered" to clients with an intriguing name like this. Located four blocks  and almost a half kilometre in from the waterfront it could hardly have offered  a "room with a view" but then, perhaps the not too distant Sai Ying Pun and later Shek Tong Tsui's licensed brothels had certain attractions.  
Submitted by on
Submitted by on
Submitted by on
Submitted by on
Submitted by on
Submitted by on
Submitted by on