Part 1 My Childhood and Teen Years - Guangzhou and Hong Kong 
1.0 Preface
The idea of writing my memoir surfaced in 2019 as I was approaching my three-quarter century milestone.  I was also impressed by Andrew Suddaby's book about his early years in England, and National Service in Hong Kong.  After reading a short summary of my story, Andrew encouraged me to expand it to a full-blown autobiography.   The story here is a collection of events that shaped my life, scenes and voices remembered, friends and neighbours, my work career, and memories of my parents and grandparents.  This may not be a full blown autobiography, but I think it captured all of the key events, the highs and lows, happy and sad times, and some in between.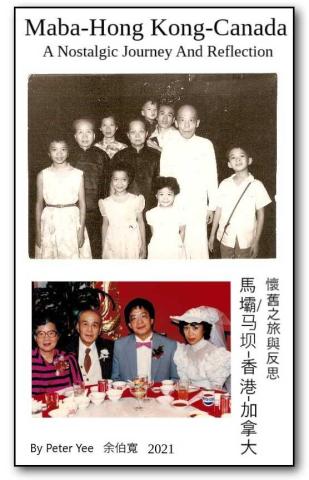 Some of the photos are downloaded from the internet with the source identified wherever possible.  If there are copyrights, I would appreciate being informed, and would remove them accordingly.
Peter Yee
August 1, 2020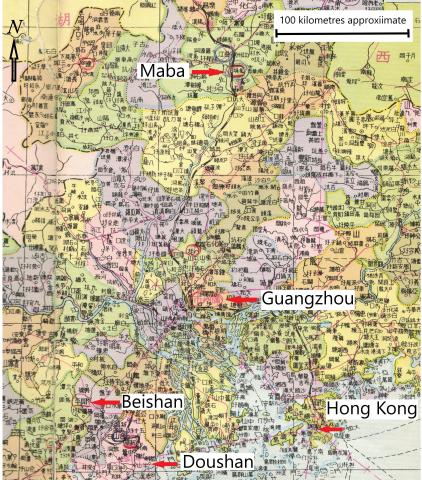 Dates of events covered by this document
-
Sample pages
My grandparents came from Taishan/Toishan  (台山), a region on the southern coast of Guangdong province of China and about 140 kilometres west of Hong Kong.  Both the two words above refer to the same region, and Toishan's English pronunciation is closer to how the people there call their home.  Some of the villages and towns in their time no longer appear in today's maps after they became a part of a large municipal entity. 
When in their home town, my grandparents spoke Taishanese -  …
Mother -  陳玉屏 / CHAN Yuk Ping / Lena Yee (1922-2003) "Ma Ma"
Father – 余欽美 / YEE Ham Mee (1915-2008), Ham in Taishanese dialect "Ba Ba"
We learn from our parents at some point in time when and where we were born.  In my case, I learned about it in 1950, one year after our family moved from Guangzhou to Hong Kong.  There wasn't much space for this active five-year old boy to play in grandparents flat.  But I made the most of it.  When father heard me playing, he would say "你 個 馬 壩 仔! (You Maba baby!)"  I could see his smiling face and sense of relief.  Mom didn't say anything, perhaps father's words had already covered it,…
Comments
Submitted by on
Submitted by on
Submitted by on
Submitted by on
Submitted by on
Submitted by on
Submitted by on
Submitted by on
Submitted by on
Submitted by on
Submitted by on
Submitted by on
Submitted by on
Submitted by on
Submitted by on
Submitted by on
Submitted by on
Submitted by on
Submitted by on
Submitted by on