Isabel Agnes Allen was my father's mother. She also owned a women's fashion shop in Central in the early 1930s called Elite Styles. I think it may have been in Icehouse Street. She used to travel from Hong Kong to Paris and back again each year to bring back dresses etc for her clients. 
My father was William Lewis Rapley, born on 26 Oct 1918 in Hong Kong. His father was Lewis Stephens Rapley (1885-1936) who was a manager at J. T. Shaw at the time. The address Isabel Agnes Rapley gave on my father's birth certificate was "Sea View", Wanchai Gap Road. 
I have some photos of her as a young woman.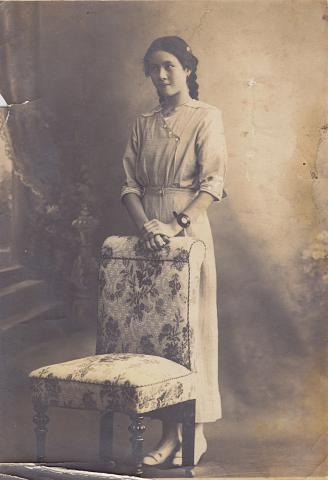 I have so far found one newspaper mention of Elite Styles. There's a tiny piece of editorial with Christmas gift suggestions from the shop in a section called 'Looking Round the Stores' on p 7 of the Hong Kong Telegraph for 10 Dec 1934. 
There is also a mention of Isabel Agnes Rapley in the Carl Smith collection - card number 135117 - referring to Isabel Agnes Rapley; Messrs Elite, Styles  1933. 
I am of course trying to identify any further information I can about her and how she might be connected to any of the other Allens that appear in the Juror Lists of the period 1900-1935 and a search on the HK PRO site.
I don't know when or where she was born. My father was told that she had died at Mallorca in the mid 1930s, but this was never confirmed. 
Comments
Submitted by on
Submitted by on
Submitted by on
Submitted by on