The starting and ending dates come from a detailed history of the Club written by Carl T Smith, "THE HONG KONG AMATEUR DRAMATIC CLUB AND ITS PREDECESSORS".
Extracts:
THE A.D.C — BORN IN A MATSHED
An Amateur Theatrical Society was formed in 1860. Its membership was made up of both civilians and military officers. 
[...]
THE LAST ACT
The last performance of the A.D.C. before the Japanese occupation of Hong Kong was in February 1940. It was "The Circle" by Somerset Maugham. After the war the A.D.C. was not reorganised under that name. The present Hong Kong Stage Club considers itself as carrying on the tradition of the Hong Kong Amateur Dramatic Club. 
An advert from 1908: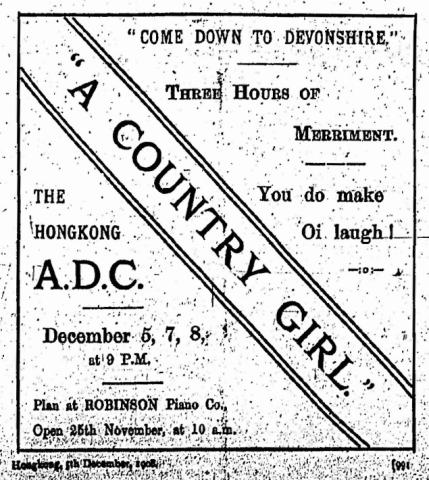 Date organisation created
(Day & Month are approximate.)
(Day, Month, & Year are approximate.)
Photos of this organisation: