Where: The first clue is the sea wall in the distance, the edge of the Causeway Bay typhoon shelter. The second is this line of buildings with a gentle bend half way along:
The buildings have long gone, but that distinctive bend is still clear to see on a modern map. It's at the junction of Gordon and Electric Roads. Extending forward from there puts us up on the hillside somewhere near today's Hau Yuen Path. Tai Hang is down behind us on the left, and Fortress Hill is ahead on the right.
When: I can't spot any clues in the photo, but it comes from a set that was sold to tourists. All the others from the set are dated to the early 1950s, so I believe this photo is from the same time. Here are some other examples from the set: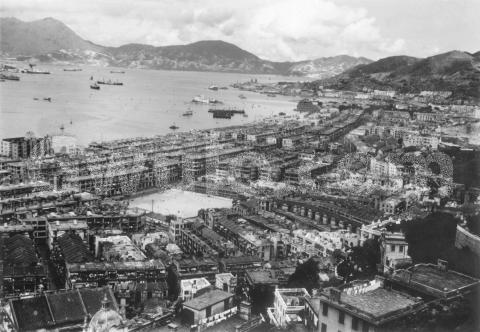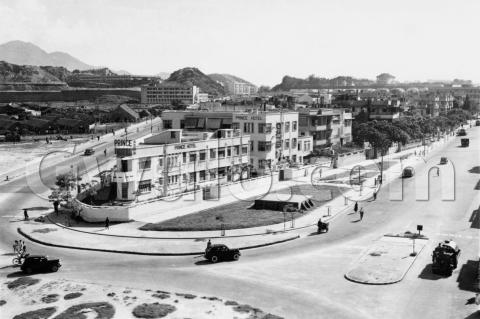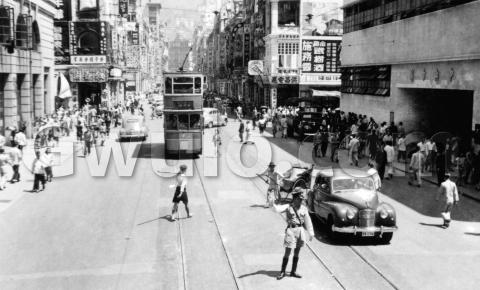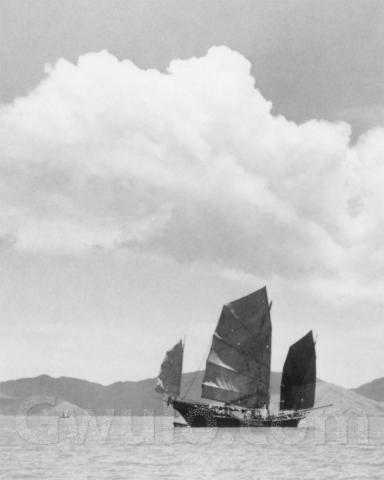 What: Looking downhill to the left, we can see several squatter huts.
Hong Kong's population numbers exploded in the years following the end of the second world war. There wasn't enough accommodation in the city to hold all these new arrivals, and in any case it was too expensive for people who'd arrived with little or nothing. Squatter huts like these were their only option, and soon spread across Hong Kong's hillsides.
Who: The farmer, watering his vegetables:
I've got a few questions about him and his vegetable plots, but first here's an edited copy of the photo. Vegetable plots are marked in green, and the squatter hut roofs in blue:
It looks as though the huts are gradually spreading up the hillside, encroaching on the vegetable plots.
Then was this area already cultivated pre-war, or did that only start with the arrival of the squatters?
Was the farmer a squatter himself, making use of the nearby land to grow vegetables? Or was he separate from them?
And how did the transfer of land from vegetable plot to squatter happen? The big, flat area that the farmer is watering looks ideal for building on. Was there compensation for selling your vegetable plot to be built on?
I'll be interested to hear if you have any ideas.
Regards, David
Gwulo reference: A225M
Also on Gwulo.com this week:
Comments
Submitted by on
Submitted by on
Submitted by on