This document is courtesy of Carol Wheat, M F Key's Grand-neice. She writes:
I have a copy of his booklet, HONG KONG Before, During and After the Pacific War, which is a general narrative published in the "Kapunda Herald" while he was staying with my Grandparents at their property "Kaplee" during his convalescence from his Internment. Following on from this circulation, there were requests for an account of his personal experiences of the War and Internment in Hong Kong, I also have a typed copy of this 18 page narrative, a very interesting read.
Carol has kindly scanned the pages of this 18-page narrative for us to read.
Please click the image below to see the first page, then use "Navigate Gallery" to view the following pages. When viewing a page, click the "Enter Full View" icon below the image to expand it to full-screen and make it easier to read.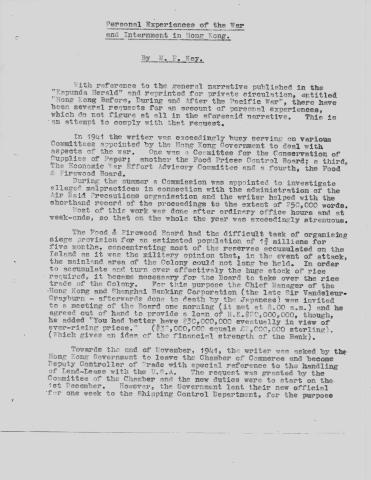 Dates of events covered by this document
-