The Hong Kong War History Research Association have an exhibition at the Kwun Tong Promenade, on from now until the end of November. They have a replica P-40 plane, several videos playing, and displays with photos and text.
These panels had an interesting set of photos taken from American planes bombing ships in the harbour: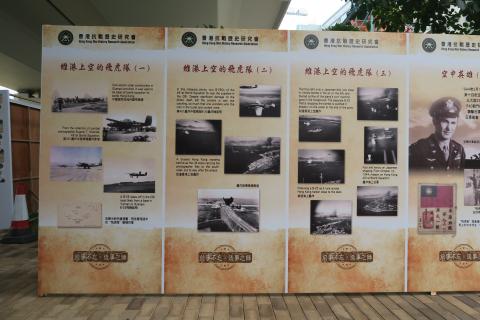 And another with cartoons drawn by Donald Kerr, describing his crash in Hong Kong and escape through the New Territories: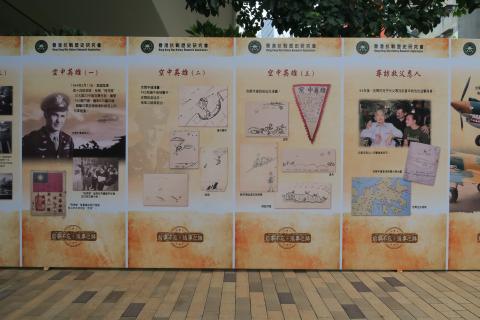 Note that the videos are in Chinese without subtitles, and the bulk of the display panels are only in Chinese.
Thanks to Thomas for letting me know about this, and for giving me the directions to get there:
The Exhibition is located at the Promenade, right opposite Kowloon Flour Mill (https://goo.gl/maps/cuJgMWp1YPS2),  The suction loading rig is impossible to miss.
It's a bit closer if you get off at Ngau Tau Kok MTR Station.   Get off there and head east, go cross the foot bridge the Millennium City Phase II and find your way seaward.  You may follow Westbound side of Kwun Tong Road until you reach Millenium City Phase I/Meyer and turn right, then straight forward until you reach the Promenade.
The association does have a website (http://www.hkwhra.org/).  It's a Chinese only site though.  They have a page for the exhibition (http://www.hkwhra.org/?p=4515) with some photographs.
The P40 on display is a replica.  I was standing before it just a few feet away and it looked real enough exhibit.  Probably not flight worthy though.
Regards, David
Submitted by on
Submitted by on
Submitted by on
Submitted by on