Current condition
Demolished / No longer exists
Moddsey writes:
The estate prior to J. Hotung House was known as Ho Tung Mansions (K. I. L. No. 527) comprising two buildings of 4 storeys high.  China Mail dated 4 April 1930 refers. Probably completed 1931/1932.
Lawrence Tsui writes:
I was born at No. 4 Ashley Road 1/F; which would be the middle of the photo of J.Hotung House. Our family moved in there in 1946.  During the War, the block was used by the Kempatei. The apartment faced the slope of Marine Police HQ with several huge Banyan Trees.  They were sizable apartments with: two huge bedrooms; a fire place; two full bathrooms, each with flushing toilets as well as old fashion copper gas water heaters. Two classic colunms seperated the sitting room from the dining room. The kitchen was large and there was a servant room. Dark hardwood floors throughout.  The staircase was wooden. Ground floor were homes and a lamp shade shop...
---
KIL 527 occupied the whole block, surrounded by Ashley, Peking, Hankow and Middle Roads.
This photo, taken in 1927/8 shows the piece of land (above the YMCA building) was still empty: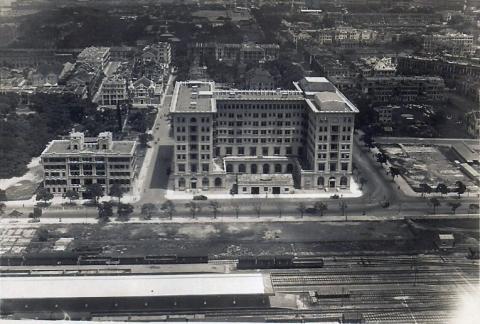 I've guessed the demolition date as 1966, based on the completion date of 1968 for the J-Hotung House / Hankow Centre building that is on this site today. Corrections welcome!