As far as I know, the Japanese erected at least 2 Japanese-type letter boxes in Hong Kong.
According to South China Sunday Morning Post (10 April 1956), there was a Japanese letter box at the Junction of Dundas Street and Nathan Road. It was replaced in 1956.

And I found a picture taken in 1951, at the mentioned junction, I cannot see any letter box there. Maybe it was blocked by the building. [Update: that photo was of a different location.]
The second Japanese-type letter box I found in a newspaper article located in Kai Tak Airfield, was a wall box (The China Mail, 8 March 1949).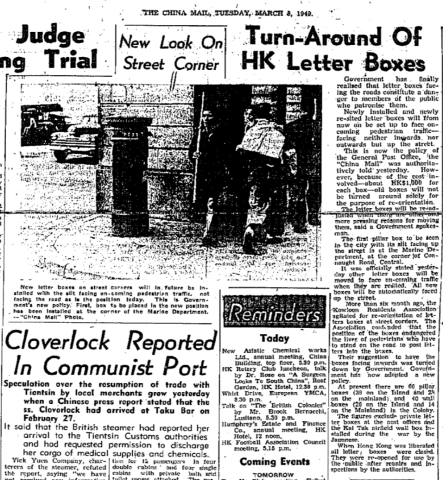 Unfortunately, there were still no pictures of those Japanese-type letter boxes. Do you guys have more pictures of the above locations or information about the Japanese-type letter boxes? Thank you for your help!
Submitted by on
Submitted by on
Submitted by on
Submitted by on
Submitted by on
Submitted by on