This is a guest post by Hong Kong writer and editor Adam Nebbs.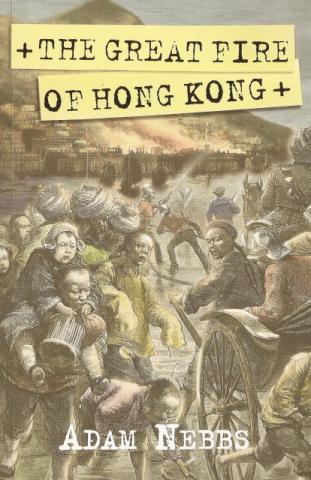 Collective Memory is a term used quite often in Hong Kong these days, amid the ongoing destruction of our city's heritage. But several very significant events from our early history seem to have drifted into complete obscurity. The San Francisco Earthquake of 1906 is a well-known event in the United States, but how many Hongkongers are aware that just a few months later a typhoon devastated their own city, killing more than three times as many people? What was once known locally as The Great Fire of 1878 is another, similarly forgotten disaster.
I first came upon the Fire (without even realising it, when I was researching a story on 19th-century visitors to Canton) in Isabella Bird's The Golden Chersonese and the Way Thither. In that book, which opens in Hong Kong on Boxing Day 1878, the author describes arriving in the Colony by ship during a fire and making her way through the mayhem to the residence of Bishop Burdon on Lower Albert Road. Much later I read Around the World by the steel magnate Andrew Carnegie, who also mentioned being in Hong Kong at the time of a serious fire. Returning to The Golden Chersonese, I found that both authors were writing about the same event, and on further investigation soon discovered that yet another writer, Constance Gordon-Cumming, was also here at the same time.
The coincidental presence of these three visitors was a result of Hong Kong's early development as a viable international tourist destination, which followed the opening of the Suez Canal and America's First Transcontinental Railroad in 1869, and a railway linking Calcutta and Bombay in 1870. The growing number of foreign visitor arrivals during the 1870s – from English aristocracy to Thomas Cook's first round-the-world package tour – seemed, therefore, an appropriate starting point for a book that has just been published as The Great Fire of Hong Kong.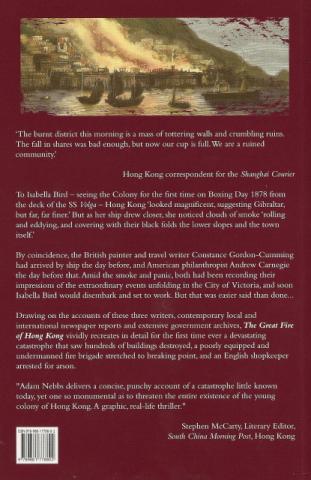 Research for that first chapter alone took quite some time, but the real work began with examining in detail the birth of the first Hong Kong Fire Brigade, an official but mostly part-time outfit that few historians seem to have ever mentioned, and none at all covered in any detail. Then there was the English shopkeeper accused of starting the Great Fire. Thanks to a number of resources, especially the Carl Smith Collection of index cards kept at the Public Records Office, I was able to piece together something of his life in Hong Kong from 1867 to 1879. Many other forgotten working-class expatriates found their way into the story, too, and tracing their lives and deaths became one of the more compelling and time-consuming aspects of writing this book.
Wherever possible I tried to use only primary-source information, and let the people speak for themselves through contemporary books, local and international news reports, court reports, official despatches and so on. More than a year after making that first Isabella Bird-Andrew Carnegie connection, I had a completed manuscript for a book that I hope will now help restore Hong Kong's memory of a very real catastrophe that destroyed hundreds of buildings between the harbourfront and Hollywood Road.
The Great Fire of Hong Kong is published in Hong Kong by Bonham Media. It includes eight illustrations, one map, two appendices and a full index. Price HK$138. 
Comments
Submitted by on
Submitted by on
Submitted by on
Submitted by on
Submitted by on
Submitted by on
Submitted by on
Submitted by on
Submitted by on
Submitted by on
Submitted by on
Submitted by on
Submitted by on
Submitted by on
Submitted by on
Submitted by on
Submitted by on
Submitted by on
Submitted by on
Submitted by on
Submitted by on
Submitted by on
Submitted by on
Submitted by on
Submitted by on
Submitted by on
Submitted by on
Submitted by on
Submitted by on
Submitted by on
Submitted by on
Submitted by on
Submitted by on
Submitted by on
Submitted by on
Submitted by on
Submitted by on