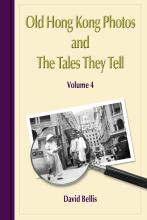 Buy direct from Gwulo
Customers from Hong Kong, Australia, Canada, New Zealand, UK, USA, and all countries in Asia can click the Add to cart button above to order direct from Gwulo and have the book mailed to you.
All orders to Hong Kong and Asia are shipped free of charge. Orders to Australia, Canada, New Zealand, UK, or USA are also shipped free of charge when you order two or more books.
Buy in a bookstore
Amazon
---
From the back cover
Not your typical photo book!
Revisit old Hong Kong through this book's collection of rare photos, many of them over 100 years old. Then join David to explore the photos' details, and so discover their hidden stories: the women who toiled up the Peak's slopes each day, carrying heavy loads of bricks and coal on their shoulders, buried treasure still waiting to be found, Kowloon's vanishing hills, and many more.
David runs the award-winning local history website Gwulo, home to over 25,000 photos of old Hong Kong.
After three great strolls down memory lane, this fourth volume provides not only a superb telescope into yesteryear, but through David's commentary, allows the images to jump off the page and really come to life. A must read for anyone who is interested in the storied history of Hong Kong and the people that helped shape it.
Helen Tinsley, Royal Asiatic Society Hong Kong
 
Ever wondered why a photographer took a picture of some building or landscape when it looks so dull? Then you need David Bellis to weave his magic and pull out the photo's stories of lost times, long-gone people and half-forgotten events. Join David on a fascinating journey that links Hong Kong's past with its present.
Patricia O'Sullivan, Author of Women, Crime and the Courts: Hong Kong 1841-1941
More information
The book is a 112-page paperback, with a page size of 152 x 229 mm / 6 x 9 inches.
ISBN: 9789887827634
To take a closer look, please click here to download a PDF sample of photos and stories from the book.
 
---
 *The affiliate link takes you to the Amazon page for this book. It doesn't affect the price you pay, but if you order via Amazon, they pay a small commission to Gwulo.