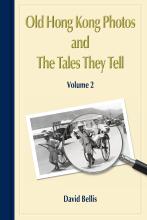 Buy direct from Gwulo
Customers from Hong Kong, Australia, Canada, New Zealand, UK, USA, and all countries in Asia can click the Add to cart button above to order direct from Gwulo and have the book mailed to you.
All orders to Hong Kong and Asia are shipped free of charge. Orders to Australia, Canada, New Zealand, UK, or USA are also shipped free of charge when you order two or more books.
Buy in a bookstore
Amazon
---
From the back cover
Not your typical photo book!
David puts more of his favourite old Hong Kong photos under the magnifying glass, revealing the photos' secrets, and uncovering their hidden stories. Flying Italian miners, and the most beautiful woman you'll never see are just two of the surprises in store for you.
David runs the popular local history website Gwulo, home to over 15,000 photographs of old Hong Kong.
More information
The book is a 112-page paperback, with a page size of 152 x 229 mm / 6 x 9 inches.
ISBN: 9789887827610
To take a closer look, please click here to download a PDF sample of photos and stories from the book.
 
---
 *The affiliate link takes you to the Amazon page for this book. It doesn't affect the price you pay, but if you order via Amazon, they pay a small commission to Gwulo.