Following on from the recent discussions about Haw Par Mansion and Tiger Balm Gardens and the mystery pavilions (Gwulo.com/node/52422), I purchased the Tiger Balm Gardens book from the Haw Par Music bookshop inside the mansion (it is currently available at $250 if you are interested to buy).
The book mentions in passing the Hong Kong factory that produced Tiger Balm and includes an illustration (see below) of the factory building but makes no mention of its location. Does anyone know where it was located?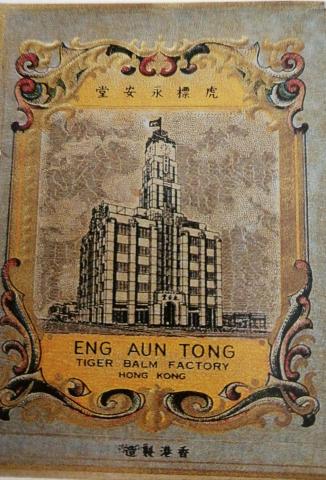 Hugh's Industrial History website mentions a company HQ at 179 Wanchai Road that was resold for development in the 1970s but I don't believe this was the factory. One of the staff at the mansion mentioned a shop on Wing Lok Street, but given the size this also seems to be unlikely. The scale of the building n the illustration above makes me think it must have been located in the NT (Castle Peak Road?) or is just that, an illustration, and the building itself was not as grand in reality.
Any clues appreciated. Even the staff at the mansion were curious and had been wondering themselves. It was a significant location because the book mentions it was the 2nd largest production facility in the company and so required multiple visits from Aw Boon Har. It was on one of these visits that he brough his wife who decided she wanted to move to HK and led to the purchase of the land for the mansion and gardens.
Submitted by on
Submitted by on
Submitted by on
Submitted by on
Submitted by on
Submitted by on