ON the anniversary of VJ Day I posted a brief article about my family who were interned in Shanghai. I have copied it below: 
75 years ago today I expect my grandparents heard the incredible news of the bombing of Hiroshima and Nagasaki by the Americans which brought about the end of their war. All my grandparents and their children were interned in Shanghai (in Chapei Camp) where there were 6 civilian camps.
They endured all kinds of incredible hardships whilst in the camp. My mother and father, who were children, met in camp. They formed a bond which lead to them getting married in Hong Kong in 1952.
I have been trying to learn more about their time in camp. Sadly both my parents have passed away now. When my brother and I were growing up, they told us of their time in camp, with almost fond memories. But I do know that they and their families suffered all sorts of depravity and cruelty.
I know that, for example, my grandfather was struck by the flat side of a Japanese soldier's sword, across the side of his head. His crime... he came out of his hut after curfew to read his bible. The heat in their living quarters that night, was unbearable. He was permanently deafened, and had to be nursed in the infirmary for months.
I have also read a very chilling account of the day the Japanese guards all left the camp, presumably very close to today's date. The prisoners went through the Commandant's papers and found a document/letter. It was from the Japanese High Command and was presumably in answer to an enquiry from the Commandant. It simply said, that 'they' understood that he was running out of food and instructed him to simply kill all of the prisoners if he could no longer feed them!!
Luckily for all of those prisoners, the surrender came and so began the next phase of their incredible lives.
Apologies to anyone on Facebook who may have already read this. As I said in the article, I am researching my family's time in Shanghai, but this is relevant here because my parents spent their entire working lives in Hong Kong.
My mother was born in Hong Kong. My parents were married at Christchurch on Waterloo Rd in September 1952 and my brother was born in Kowloon Hospital in 1958. My Mum died in QE hospital in 2012 having spent her last 2 years in The China Coast Community. 
The photo taken below shows my Aunt (2nd from the right) on board HMS Belfast which had been deployed to Shanghai to bring back civilians who had been interned there.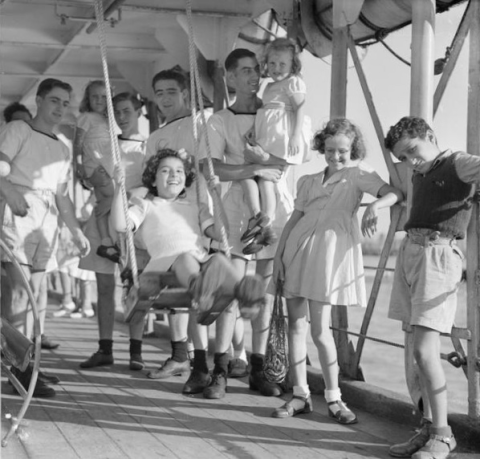 Submitted by on
Submitted by on