Mary was the wife of Arthur John Ablong, and they had at least 4 children: Markus, Nora, Lucy and George. Extended family members also report other children named John, Mary and Frank.
Mary is one of my great grandmothers. I don't have much information about her. If anyone knows anything about her, I would be grateful for any further information!
Update (2018-10-20): I have found more information from the logbooks of St Michael's Catholic Cemetery (Happy Valley, Hong Kong) - thanks to the gwulo.com website and Brian Beesley on how to do this (https://gwulo.com/node/8233) via the www.familysearch.org website.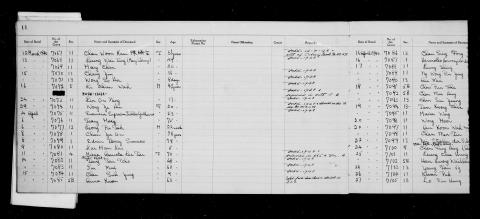 The second entry of this page of the logbook states:
Name and surname of deceased: Leung Wai Ting (Mary Ablong)
Date of burial: 13th March, 1940
This picture was found in my grandmother Lucy Ablong's belongings, together with her father Arthur Ablong's picture. It does not have any writings on the back to identify her name.
However, one of Arthur's grand-daughters has the exact same set of pictures, and on her copy of Arthur Ablong's picture, at the back, are writings about "Mother" (name of writer unknown), which I think refer to his wife Mary Ablong here:
Arthur Ablong's registration at St Michael's Catholic Cemetery also cross references to grave #7068, which belongs to Leung Wai Ting. Based on all of the above, I believe that Arthur Ablong's wife was Leung Wai Ting (Mary), and it is likely this lady pictured here.
Update (2019-01-05): one of my aunts confirmed that my grandmother Lucy had told her that this lady in the picture was her (Lucy's) mother, so I am pretty confident that this is Mary Leung Wai Ting.
Photos that show this Person
Comments
Submitted by on
Submitted by on
Submitted by on
Submitted by on
Submitted by on