Following on from David's Club Lusitano's historic propeller story here are two flags that could also be categorised as 'items of interest displayed on walls'. These framed flags currently hang in the Marine Police Headquarters in Sai Ying Pun.
The first is the Japanese flag that flew over the old Marine Police Headquarters building in Tsim Sha Tsui during the World War II. During the occupation the Japanese navy used the old MPHQ building as a local headquarters.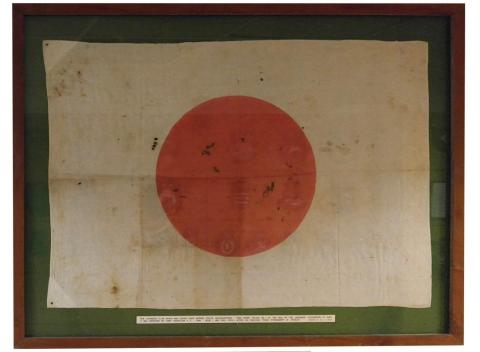 The story behind this flag: Upon being freed from Stanley Internment Camp in August 1945 two Marine Police officers, Sergeants Tony Rose and Ray White, walked across Hong Kong Island to the Star Ferry terminal where they scrounged a lift across the harbour. After walking up the ramp to the Marine Headquarters building they found (probably to their surprise) members of the Japanese navy still woking in the various offices. According to Ray White 'the Japanese moved out without argument'. Sergeant Tony Rose then lowered the Japanese flag in a simple ceremony. But this could only take place after a request had gone out to British forces in the harbour, asking them to stop taking potshots at the flag. The bullet holes are clear to see in the photograph. It was Tony Rose that presented the flag to the Marine Police Officers Mess, where it hangs to this day.
The second flag, that is displayed in the corridors of Marine Police Headquarters, is a scorched and blackened red ensign.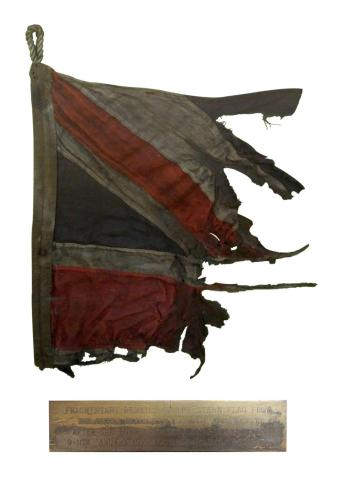 It was removed from the burning Queen Elizabeth II (then known as the Seawise University) before she rolled and sank in the western harbour on 10 January 1972. This ensign was rescued by Marine Sergeant Peter Cheuk Man-kei. Sergeant Cheuk, on board a harbour patrol launch, was one of the first on the scene after the fire broke out. In addition to the ensign Peter Cheuk also rescued over 150 people from the burning ship.